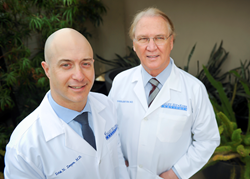 Van Nuys,CA (PRWEB) August 21, 2014
The Valley Hip & Knee Institute of Valley Presbyterian Hospital will host a free joint-replacement seminar at the Warner Center Marriott in Woodland Hills on Saturday, Sept. 13, from 9:30 to 11:30 AM.
Featuring presentations by Herbert D. Huddleston, MD, and Erik N. Zeegen, MD, the informational session enables those suffering from hip and knee pain to meet the physicians and learn about the latest treatment options. Free parking and a continental breakfast will be provided for all attendees. Participants can register for the event by calling 877.500.1958.
As Medical Director of Valley Hip & Knee Institute, Dr. Huddleston is a board-certified orthopedic surgeon whose specialty is hip and knee replacement. A champion of innovative and minimally invasive procedures, he has performed more than 6,000 hip and 5,000 knee replacements, as well as 700 repairs of failed hip replacements. Dr. Zeegen, Associate Medical Director of the Institute, is also a board-certified orthopedic surgeon and one of Southern California's leading experts in hip and knee surgery.
The Valley Hip & Knee Institute's goal is to alleviate its patients' pain and help restore their mobility and quality of life. Employing the latest joint-replacement techniques, the Institute's nationally recognized orthopedic surgeons offer more than 40 years of combined experience and have successfully performed more than 15,000 hip and knee operations. The entire care team is dedicated to meeting the specialized needs of its patients and ensuring the best possible outcomes.
Located in Tarzana, Calif., the Institute is an outpatient service of Valley Presbyterian Hospital, one of the largest acute-care hospitals in the San Fernando Valley. Anyone experiencing joint pain and seeking treatment options is urged to attend this free seminar to learn more from the Institute's medical specialists.
ABOUT VALLEY PRESBYTERIAN HOSPITAL
Valley Presbyterian Hospital (VPH) is an independent, nonprofit and nonsectarian hospital serving the medical needs of the San Fernando Valley community for more than 50 years. VPH has grown to become one of the largest acute-care hospitals in the Valley region and continues to provide patient-centered care for a healthy community. The 350-bed facility offers advanced technology and a full range of medical services to improve and save lives. For more information, visit http://www.valleypres.org.