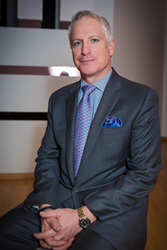 New York, New York (PRWEB) October 22, 2014
Jon Theuerkauf, the first American to report to Sberbank CEO German Gref, has announced that he has officially joined Auckland Savings Bank (ASB) to head up its new productivity initiative called WorkSmart.
In his new role, Theuerkauf will lead and manage ASB's WorkSmart team to drive the new bank-wide program. Theuerkauf will focus on identifying transformational changes that will make the delivery of the bank's services simpler and easier for customers and employees, as well as build the foundation required to promote a sustainable culture of continuous improvement and innovation.
Theuerkauf moved from the United States to New Zealand to join ASB on a two year contract that began on October 6, 2014. He brings more than 25 years of experience, to the bank, managing and leading local and global scale business transformation initiatives in the financial services industry and beyond.
A certified Six Sigma Master Black Belt, Theuerkauf's skillset includes a significant focus on implementing sustainable quality, productivity and efficiency initiatives for complex organizations including Credit Suisse, HSBC (UK) and GE Capital (US). Prior to joining ASB, Theuerkauf was Head of Reengineering at Sberbank of Russia where he advised, Gref as well as the board of directors and executive team, on improvement and innovation initiatives, and developed and managed Sberbank's productivity enhancement strategy programs.
Theuerkauf left Sberbank in June 2013, when he and the Sberbank Board of Directors decided that the bank executive's collaboration with them (what Theuerkauf refers to as "the Great Experiment") was, in the end, just not working out. "I knew the required cultural changes were never going to happen when the bank's Board as well as the CEO himself couldn't do what it was going to take to get things done," Theuerkauf said. "I decided that is was time to step away despite the very positive financial and program results that had been achieved." Theuerkauf and a number of the key vendors, that were engaged with Sberbank to help improve and innovate the Russian giant, were also never paid out as contractually agreed to, including those contracts signed by Gref himself.
An American citizen, Theuerkauf returned to the United States in the fall of 2013 and began consulting in New York. In the summer of 2014, he was approached by ASB with an opportunity to apply his innovation and improvement leadership into an initiative that he could get behind and help make a great success. Theuerkauf will look to more opportunities to create and implement further improvement and innovation programs, for more organizations around the world, in the fall of 2016. Read more about Jon Theuerkauf at: http://www.improveandinnovate.com.