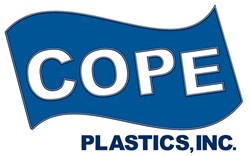 Alton, IL (PRWEB) October 18, 2013
Cope Plastics, Inc. has hired Jon Gregory as Director of Strategic Sales. His experience will help Cope design and enhance sales best practices which in turn will drive sales productivity.
In Gregory's new role, he will drive and grow Cope's strategic accounts and footprint, as well as drive sales best practices for the company. He will work to grow strategic account verticals and expand Cope's product penetration with existing accounts.
Gregory has over 20 years of strategic sales and business development with a proven track record of strategic planning, sales management and marketing technology solutions. He has experience selling to OEMs and targeting C-level executives. Gregory is an award winning sales professional equipped with a solid background of success in team building and motivating.
Cope Plastics, Inc. is a leading distributor and fabricator of plastic sheet, rod and tube across the country. Whether you require engineering plastics, graphics materials, acrylics, polycarbonates, custom fabrication, design assistance or a multitude of other plastic materials and services Cope Plastics, Inc. is ready to offer you solutions! Our dedicated fabrication facilities and our industry leading machinists provide quality parts that will help your solutions become more efficient, more cost effective and more flexible.
Visit us at http://www.copeplastics.com.