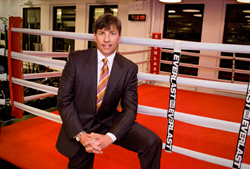 I am honored to be nominated by Castle Connolly the world's leading authority in identifying top doctors. In this advancing technological era, I pride myself to continue to innovate and apply technology as it pertains to my subspecialty
New York, NY (PRWEB) June 09, 2016
Castle Connolly Medical Ltd., America's trusted source for identifying Top Doctors, has selected Dr. Jonathan Glashow, http://www.orthopedicsurgeonnyc.com, a board certified NYC orthopedic surgeon and sports medicine specialist, for inclusion in its highly selective list of Castle Connolly "Best Doctors in the New York Metro Area" which has been published in the May-June 2016 issue of New York Magazine.
Dr. Glashow specializes exclusively in orthopedic shoulder surgery and knee injuries including advanced arthroscopic all-inside anterior cruciate ligament (ACL) reconstruction, revision ACL reconstruction surgery, as well as state of the art techniques for arthroscopic rotator cuff repair surgery, shoulder labral repair surgery, MCL repair surgery, meniscal transplants surgery, fractures, and separated shoulder surgery.
Dr. Glashow stated, "I am honored to be nominated by Castle Connolly the world's leading authority in identifying top doctors. In this advancing technological era, I pride myself to continue to innovate and apply technology as it pertains to my subspecialty."
A New York City research and information company, Castle Connolly Medical Ltd., publishes an annual guidebook titled Top Doctors: New York Metro Area, which lists those whom Castle Connolly has determined to be in the top 10 percent of the region's physicians—more than 6,000 in all. For the past twelve years, Castle Connolly has been providing New York Magazine with a shorter version of this list for the magazine's "Best Doctors" issue.
About Jonathan Glashow, MD
Jonathan L. Glashow, MD is an orthopedic knee & shoulder surgeon with a sub-specialty in sports medicine surgery. He is in private practice on NYC's Upper East Side. His credentials include Diplomat of The American Board of Orthopedic Surgeons, Diplomat of The National Board of Medical Examiners, and Fellow of the American Academy of Orthopedic Surgeons. He is Co-Chief of Sports Medicine & Clinical Associate Professor at Mount Sinai Medical Center in NYC, Chief Medical Officer / Orthopedic Surgeon for the Philadelphia 76ers, and Chief Medical Officer / Orthopedic Surgeon for the New Jersey Devils.
Dr. Glashow has been awarded "Best Orthopedic Surgeons in America" by New York Magazine for over a decade as well as SuperDoctors, The New York Times, Top Doctors, New York Magazine's "Best Doctors" issue, and hundreds of leading publications, and news programs.
For More Information
Jonathan L. Glashow, MD
737 Park Ave, #1C
New York, NY 10021
(212) 794-5096
http://www.orthopedicsurgeonnyc.com