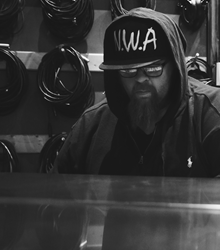 Rihanna is a natural star and the truth is that she just out worked everybody else. She deserves the credit for where she is today.
New York, New York (PRWEB) March 17, 2015
Exactly 10 years ago today on March 17, 2005, multi-platinum industry veteran Jonathan Hay first broke the news about 16-year-old Barbados singer Rihanna on MTV News. Rihanna's rise to fame all started with a two sentence blur on MTV, with a brief mention of her debut single and her affiliation with Jay Z's Def Jam record label, which she had recently signed to.
"In early 2005 I was in Orlando working on several projects, including one with Bruce Swedien," Hay said. Bruce Swedien is a Grammy Award-winning audio engineer and music producer known his work with Michael Jackson spanning over 25 years – including Thriller, the bestselling album of all time.
"I remember taking a demo of Pon de Replay that I got from Vada Nobles and playing it for Bruce in his studio in Ocala, Florida after he had just gotten home from recording with Jennifer Lopez," Hay continued. "Swedien said that Pon de Replay could be a hit record."
Hay's first Rihanna pitch was turned down by virtually every media representative he reached out to, including Roger Friedman, an esteemed entertainment news journalist.
Of everyone Hay reached out to, the only media person who was interested in Pon de Replay was Jennifer Vineyard, who at the time worked for MTV News (Jennifer Vineyard has written for Rolling Stone, CNN, and New York Magazine). Hay had come into contact with Vineyard through his earlier work with John Houston Entertainment, Whitney Houston's late father's company in which he once served as the Vice President alongside his partner, Kevin Skinner (it was Skinner who introduced Hay to Vada in 2004).
After that blur hit online, it gave Rihanna more credibility, so Hay used the phrase "As Seen on MTV" to leverage more press. He then created the controversial publicity stunt that has since been ranked in PopDust's "Ten Greatest False Rumors in Pop History" and covered by such media as TheYBF, NecoleBitchie and Jawn Murray.
Over the past decade, Rihanna has sold over 150 million records worldwide, making her one of the best-selling artists of all time.
"There have been mentions that I was the one who broke Rihanna's career, but that is completely overstating the facts." Hay said. "It took a lot of people [to break Rihanna's career], but most importantly, Rihanna is a natural star and the truth is that she just out worked everybody else. She deserves the credit for where she is today."
"Around this same time ten years ago, I was in some of the sessions with Vada when he was working on Pon de Replay and the official remix with Elephant Man." Hay continued, "Pon de Replay is timeless. Rihanna has grown a lot as an artist since then. Her first verse on FourFiveSeconds with Kanye West and Paul McCartney – that's the best I've heard her sing. It's raw and emotional. It connects."
"Right now, being ten years later, I want to produce a song for Rihanna," Hay said. "Ten years from now, I want to be writing about the song that I produced for Rihanna ten years earlier."
Rihanna's very first press release can still be seen here on a public message board ten years later - http://rapmusic.com/threads/vada-nobles-jay-z-signing.869588/