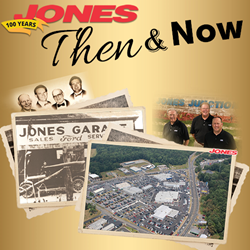 Jones Junction understands the importance of giving back to the community that has served them as well
Bel Air, MD (PRWEB) January 19, 2017
Jones Junction is proud to announce that 2017 marks their 100th consecutive year as a family-run automotive business located in Harford County and serving Maryland, Pennsylvania & Delaware.
The Jones family believes their success lies in focused dedication to hard work and integrity. Their goal is not simply to sell a car; it is to create a lifelong partnership with their customers. This philosophy created the Jones for a Lifetime program, which is still in effect today. In order to carry on their father's & grandfather's philosophies and successes, Danny, Larry and Beverly Jones still actively run the dealership along with their partner, Bryan Kilby.
The Jones family has been in the car sales & service business since 1917 and now employs more than 670 people on a campus of multiple dealerships located at what is now known as Jones Junction… the intersection of Bel Air & Harford Roads. Today, the auto group is a single campus of 45+ acres selling & servicing Chrysler, Dodge, Jeep, RAM, Toyota, Nissan, Hyundai, Genesis, Subaru, & KIA as well as 3 Used Car Superstores & a Collision Center… over 5000 cars all within walking distance of each other.
Every Jones family member, as well as the Kilbys who join Jones in 1983, have started at the bottom and worked their way up to learn the business. Their dedication to customer care and community service allows Jones Junction to stand out as a pillar of the community.
"Jones Junction understands the importance of giving back to the community that has served them as well," said Mary Chance, Community Liaison and facilitator of Jones for a Cause, the organization formed to serve more than 50 local nonprofits to provide services for homelessness and addiction, as well as youth programs and the arts, among many other causes. And while Jones Junction has ongoing financial partnerships to help local charities develop these projects, they encourage their staff to volunteer hands-on as well. "We really do want to support nonprofits in Harford County, and put our hands to work in the community," said Ms. Chance.
For more information, please visit our website or any of the following specific pages:
History of the Jones Junction Auto Group
Jones for a Lifetime
Jones for a Cause