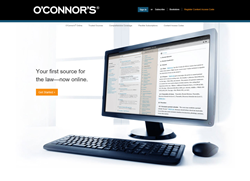 [A] radical new platform for finding answers in [legal] print content via the Web.
HOUSTON, TEXAS (PRWEB) June 12, 2014
Jones McClure Publishing, long known in the legal community for its high-quality legal desktop reference books, today announced the launch of OConnors.com, a radical new platform for finding answers in its print content via the Web.
"We are excited to offer our customers the ability to access O'Connor's legal content over the Internet in a very unique platform," said Baird Craft, President. "For the past few years, judges, attorneys, and paralegals have wanted digital access to our content, but the options available at the time, such as PDF or ePub formats, weren't the right fit. So we sat down with Behavior Design and created a platform that we wanted to use ourselves, which has always been one of our guiding business principles."
OConnors.com surpasses the book format in favor of providing customers access to nearly all of O'Connor's legal content—practice commentary, forms, and annotated codes and rules—in one place. The new service allows customers to browse content by tables of contents or to search everything and filter the results for the best answers. Content can be bookmarked, highlighted, and marked up with notes, all of which can be saved in easily accessible folders for quicker retrieval. Formatted forms are generated on the fly and can be downloaded and saved to a local drive.
"Two keys to the service were search and user experience," said Craft. "For search, we worked with an industry leader, MarkLogic, and have built a sophisticated search system, one that we will continue to tweak as more customers come online. For user experience, we emphasized to the designers and developers that when a customer is researching, they should always see three things: search results, a table of contents, and the actual content itself. We feel this has been accomplished through a unique set of interactive panels that predict what you want to see while you're researching."
Texas users will be able to access most O'Connor's Texas content through the initial release of OConnors.com. California users will be able to immediately access the content in California Practice * Civil Pretrial by a personal registration access code included with each book. Future updates are planned to provide access to Jones McClure's federal titles.
About Jones McClure Publishing
Jones McClure Publishing is a leading provider of specialized practice guides, desktop codes, and forms for the legal-services industry. JMP's market-leading brands include the O'Connor's Expert Practice, Litigation, and Annotated Codes Series of print titles. JMP was founded in 1992 and has its headquarters in Houston, Texas. For more information, visit http://www.jonesmcclure.com