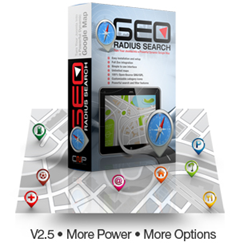 Simply put, the more Joomla focused businesses thrive and the more users get help from qualified providers the more success can be achieved with Joomla as the engine for business and commerce online.
(PRWEB) March 25, 2014
The GEO Radius Search extension (http://www.georadiussearch.com) is advanced map navigation software built for the popular Joomla! CMS. This tool suite provides users the ability to create interactive maps for navigating large collections of listings with location related content on their websites. The GEO Radius Search extension for Joomla leverages the ZOO content construction kit (CCK - developed by the team at http://yootheme.com) to quickly display categorized data collections such as, catalogs, business directories and user communities on interactive and dynamic maps. The radius calculation engine is the only one of its kind and significantly enhances the possibilities of presenting beautifully displayed results from a user selected radius distance, content category and other options that enable users to easily find the right information they are searching for.
The all new GEO Radius Search version 2.5.5 introduces many new features but most notably is optimized performance since the code base has been complexly re-engineered. This means larger data sets can be managed to accommodate enterprise level deployments. Users can now toggle between Miles and Kilometers from the front end. This makes it appealing for developing international location search applications with Joomla CMS and ZOO. Among other highlights are support for nested categories, updated migration tools and a new version checker to ease the installation and configuration process. The added capability for allowing modules to publish and subscribe to each other makes for very flexible configuration options in any choice of Joomla template. "Credit for this outstanding achievement of building GEO Radius Search v2.5.5 goes out to the brilliance and dedication in our lead developer Erico Lopez who has taken the code base to new heights and engineered it for superb performance," says Christopher Nielsen, General manager of CNP Integrations.
CNP Integrations http://www.cnpintegrations.com was first introduced to the ZooRadius technology, predecessor to GEO Radius search, while contributing to the redesign of the new Joomla Resources Directory http://resources.joomla.org. As it was clear, that to be considered for such an important project this needed to be a well-supported extension over time and many enhancements would be required to grow this platform to its deserved potential. To achieve this goal, CNP was approached to take over development for the extension and in June 2013 a deal was finalized for CNP to purchase the project. The JRD team now could count on an extension that will be supported over time and it gave CNP Integrations an opportunity to implement new features and grow their commercial extension development business. Out of this the NEW GEO Radius Search was born.
The GEO Radius Search Extension was chosen as a key navigation tool for the new Joomla Resources Directory because it was truly the most powerful GEO mapping solution for ZOO and because it offers faster navigation of categories and map search capabilities for end users to quickly find Registered Providers. Users can now connect with categorized provider data either on the map view or in organized search results.
Discussions about the JRD portal redesign started nearly two years ago and the results were unveiled for a preview to the public on March 15th 2014 at the JoomlaDay Boston event. A full global launch and enrollment campaign for the Joomla Resourses Directory is scheduled to begin in early April and will be part of a keynote presentation at JoomlaDay Brazil on May 3rd 2014. http://joomladaybrasil.org/2014/
Several members of the CNP Integrations team have been involved in the ongoing development of the new JRD along with many other community volunteers. "We are excited to see how this new GEO navigation approach using our GEO Radius Search Extension will add value to the portal and allow users to quickly access Registered Providers for support or consulting related to their Joomla sites. The directory lists many like-minded businesses to CNP Integrations but we do not see them as competition. Rather as partners in growing Joomla's use and popularity. Simply put, the more Joomla focused businesses thrive and the more users get help from qualified providers the more success can be achieved with Joomla as the engine for business and commerce online. Growing the entire Joomla ecosystem and confidence in the marketplace is just going to mean more customers and opportunity for everyone. There is an estimated 64% of the web that has yet to begin using CMS systems and we feel they should all be considering Joomla as their first choice," says Christopher Nielsen, General manager of CNP Integrations.
The GEO Radius Search extension for Joomla can be downloaded through a subscription at http://www.georadiussearch.com or on the Joomla Extension Directory http://extensions.joomla.org.
A Joomla! CMS is easy to manage and update. In Joomla 2.5 a one click update manager was introduced making it as easy as clicking a button to upgrade. In Joomla 3.2 the addition of version control and the new download from web option were among several key features added. When enabled, users can download extensions directly from the administration panel of their Joomla CMS website. Joomla has thousands of extension listed on the Joomla Extensions Directory. The download from web feature works like the app store on your mobile device and makes it easy to search and add new capabilities to your Joomla website. Free extensions can be installed in seconds without leaving your admin panel, while commercial extensions link you directly to the developers websites so you can quickly add features like the GEO Radius Search to your Joomla site. Joomla 3.3 is scheduled for release on April 22nd 2014 and will have even more new features designed for improved security and enhanced marketing effectiveness.
Joomla! CMS, http://www.Joomla.org, first took the stage in 2005 and has been a dominate force in the world of open source software ever since. Gaining globally popularity that exceeded 3% of all websites online, more than 50 million downloads and growth in market share at the rate of over 14% in 2013. The Joomla CMS ranks number one in most of Europe and is consistently in the top two CMS's in its class around the world. Since the overwhelming success of Joomla has been built from a 100% volunteer organization it is a unique business model is which stands out in the marketplace.
CNP Integrations http://www.cnpintegrations.com/blog has an engaged global team of technical and configuration experts and employs highly skilled programmers and project managers with the focus of providing the most responsive web application support services for the Joomla CMS and other compatible technologies. CNP Integrations is a business division of Creative Networks Protocol Inc., a Massachusetts based corporation. CNP Integrations offers premium technical support and hosting with a value building methodology and a proven process of project management success. CNP Integrations primarily provides services across the United States but has serviced customers globally in 7 countries on 3 continents.