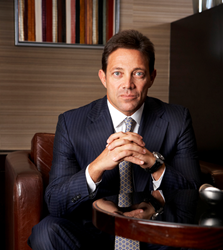 The Real Wolf of Wall Street - Straight Line Persuasion System is a must attend event for any aspiring sales person or entrepreneur looking to take their life to the next level.
Vancouver, BC (PRWEB) April 28, 2014
Jab! Jab! Uppercut! POW! Faster than a speeding bullet, able to expand entire businesses with a single conference call, Darren Little, also known online as the MLM Superhero has done it again.
Little is extending a special rate to individuals, companies, sales teams and contacts to attend the Wolf of Wall Street Sales Event featuring Jordan Belfort (performed by Leonardo DiCaprio).
SPECIAL PROMO CODES FOR DISCOUNT PRICING:
General Admission Tickets Promo Code: 007
VIP Tickets Promo Code: 007VIP
Belfort will share his shocking life story and present the Straight Line Persuasion System – proven and ethical sales strategies for any individual or company wanting to increase sales and profits. This three-hour session is jam packed on how to increase sales, design a powerful vision, and use strategies and psychology to thrive in today's economy.
Darren Little, who consults companies on both online and offline marketing strategies, says "The Real Wolf of Wall Street - Straight Line Persuasion System is a must attend event for any aspiring sales person or entrepreneur looking to take their life to the next level."
Leonardo DiCaprio says, "What separates Jordan's story from others like it, is the brutal honesty which he talks about and the mistakes that he's made in his life — there is nothing quite like Jordan's public speaking and his ability to train and empower young entrepreneurs…he is a true motivator."
Frank Kern says, "Jordan Belfort is the real deal. The Straight Line System is absolutely unbelievable. What I learned from him in terms of how to maximize profits has completely changed how I do business. I couldn't speak highly enough of Jordan or his materials. You're in good hands with Jordan Belfort."
The cross Canada Speaking Tour will consist of four cities - Vancouver May 1 | Calgary May 2 | Montreal May 12 | Toronto May 15. Each session will run in each of the respective cities from 1 p.m. to 4 p.m.
What attendees will learn:

The FOUR core elements of the inner game of sales. (These four elements are absolutely essential for success. If a person lacks even one of them, they will end up actually sabotaging their own success!)
How to get into instant rapport with prospects and how to use that rapport to gather massive intelligence. (Prospects will be predisposed to trusting the salesperson, so they'll tell them what their highest values are and where their pain lies.)
The art and science of Straight Line prospecting. (Attendees will learn how to develop a multimillion-dollar sales pipeline free of tire-kickers, so they never waste time again.)
The four key elements to creating ethical presentations that actually close the deal. (To be blunt, most sales presentations are totally misguided and actually stop the sales person from closing the deal.)
How to instantly squash objections and limiting buying beliefs, turning skeptics into buyers. (This proprietary belief-busting technique is the secret sauce of the Straight Line System and will empower clients to make positive buying decisions)
The secret to closing calmly and consistently every single time without even the slightest bit of high pressure. (It's elegant, it's classy and it's ridiculously effective)
The ten-step formula for building a never-ending stream of customer referrals and creating customers for life. (Attendees will make their lives a thousand times easier with this proven, paint-by-numbers formula).
How to raise money through Venture Capital and Angel Investors so as to start using Other People's Money to fund ideas and grow businesses.
The step-by-step process of Straight Line Negotiating, including the seven magic words that allow you to get the lowest price every time.
Jordan Belfort says, "I once used these same tactics for the wrong reasons and I got carried away by the crazy sums of money I was able to generate using the System I'm about to show you, and being only 26 years old at the time, I lost my way. Fortunately, I went back to my ethical roots, and made this System of ultimate persuasion even better by implementing ethics as a way to sell more. That's right: the more ethical you are, the greater your sales and persuasion skills can be."
EVENT LOCATIONS:
MAY 1 - 1 p.m. to 4 p.m. - Vancouver: Vancouver Convention Centre
MAY 2 - 1 p.m. to 4 p.m. - Calgary: Telus Convention Centre
May 12 - 1 p.m. to 4 p.m. - Montreal: Palais des congres de Montreal
May 15 - 1 p.m. to 4 p.m. - Toronto: Toronto Congress Centre
Group / Corporate Ticket Pricing
General Admission Tickets:
Only $117 (Reg. $137)
Promo Code: 007
VIP Tickets
(Seating in Rows 1-3, Signed Book, Photo, Exclusive VIP Meet & Greet Reception)
Only $695 (Reg $795)
Promo Code: 007VIP
How to Get Tickets:
For single tickets less than 10:
Register online for single tickets at http://www.wolfofwallstreet.ca (enter promo code 007 or 007VIP for discounted rate).
For Group Tickets of 10 or more: Must give promo code 007 or 007VIP for discounts.
Email us at marketing(at)soho(dot)ca or call 1.800.290.7646 ext 255.
What attendees are saying:
"Jordan is one of the most engaging and motivating speakers in the world today. His life experiences are truly amazing, and what he teaches about selling with the Straight Line System is simply world class. If you desire to be at the top of your game as a salesperson, don't miss this! " - Craig Scoogie, CEO, NextDC
"With his energy and direct presentation techniques, Jordan enables me to clear the fog of ideas and goals that I have and enabled me to crystallize my vision going forward." - Chris Fydler, Business Owner, Olympic Gold Medallist Sydney, Australia