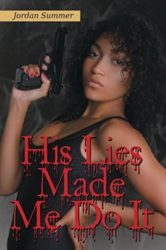 FAYETTEVILLE, Ga. (PRWEB) October 14, 2014
The new romance novel "His Lies Made Me Do It" (published by Lulu), by Jordan Summer, weaves a passionate tale of betrayal and lust as one woman is driven to pleasures outside her marriage following her husband's incessant betrayals.
To most of her coworkers, high school English teacher Monique Alexander appears to have it all. With a promising career and an attractive police officer husband named Damon, Monique seems to lead a blissful life. What her coworkers don't know is that Damon is anything but faithful to Monique and she's growing tired of smelling other women's perfume on him.
In an act of passion and revenge, Monique seeks out an old flame named Ross Willingham and contemplates engaging in her own brand of a steamy affair. Monique finds herself caught between two men she loves and must make the ultimate decision. Should she repair her marriage or take a chance on a new path to happiness?
An excerpt from "His Lies Made Me Do It":
"Although Monique was smiling on the outside, she could not help but think about Damon's most recent extramarital affair. She wondered if this year would be better than the years before. She always found herself looking over her shoulder to find out whether Damon was still up to his same philandering ways."
"His Lies Made Me Do It"
By Jordan Summer
Hardcover | 6 x 9 in | 246 pages | ISBN 9781483416540
Softcover | 6 x 9 in | 246 pages | ISBN 9781483416533
E-Book | 246 pages | ISBN 9781483416526
About the Author
Jordan Summer began writing songs and stories from a young age. She studied communications in college and later worked for a radio station. For the last 13 years, she has worked in the field of education. "His Lies Made Me Do It" is her first published book. More information is available at http://www.jordansummerauthor.com/.
Lulu empowers people of all ages to explore and express their interests, passions and expertise through books, photography and art. Since introducing self-publishing in 2002, Lulu has empowered creators in more than 225 countries and territories to produce nearly two million publications. Lulu Jr. allows children to become published authors, encouraging creativity, strengthening literacy and building self-esteem. Picture.com offers professional photography of collegiate and professional sports, memorable and historic events, fine art and home décor. For more information, please visit http://www.lulu.com.