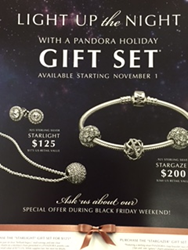 Stuart, FL Jewelry Store Unveils Exclusive 2014 Holiday Special
Stuart,Florida (PRWEB) November 26, 2014
One jewelry store in Stuart, FL is making holiday shopping more exciting than ever this year. This jewelry store happens to be Joseph's Jewelry and they're offering their customers an exclusive Pandora Black Friday promotion that can be taken advantage of November 28 - November 29,2014. Shoppers can purchase a special bundle that includes the limited edition 2014 Pandora charm and two Pandora jewelry gift sets for only $350. This represents a savings of $160. The best thing is that people who don't want to do any predawn shopping don't have to. That's because this promotion will be available during normal business hours. Customers can visit https://plus.google.com/+JosephsJewelryStuart/about?hl=en for more information.
The first gift set is the Stargazer Bracelet Set and includes a sterling silver barrel clasp bracelet, two clear cubic zirconia cosmic clips and the new winter 2014 silver galaxy charm. This set regularly retails for $260 and is available for $200. The second set is the Starlight Jewelry Set and includes the clear cubic zirconia brilliant legacy earrings, a sterling silver necklace, and a clear cubic zirconia pave lights bead. This set normally retails at $175 and is available for $125. Both of these sets come with a leatherette jewelry box. The 2014 Pandora holiday charm is available for $75. Customers who are looking for a great deal can purchase the Wish Upon a Star Set that includes both jewelry sets and the limited edition charm for just $350.
"This Pandora promotion is a great deal for anyone who has a Pandora fan on their Holiday gift list. The jewelry is exquisite and the savings are tremendous. Pandora hasn't officially released what this year's 2014 holiday charm is, but I'm sure it'll be as elegant as all of the charms have been in the past. The nice thing is that this promotion covers all the bases by including a bracelet, a necklace, earrings, and a collectable charm. There's really something for everyone, so it makes holiday shopping a lot easier. Shoppers also don't have to lose sleep over this offer, because it will be available during normal store hours.", said Joseph Napoli, owner of Joseph's Jewelry in Stuart.
Joseph's Jewelry is a family owned and managed local jewelry store. Their main location is in Stuart, FL and they have been providing the most exquisite jewelry selection since 1990. They also boast the largest selection of fine jewelry in the Treasure Coast and have an unparalleled bridal department that includes diamond designer engagement rings. Customers can also shop Pandora and Marahlago jewelry. Their jewelry repair services are very popular, because they have a competent jewelry repair team that does all the work on location.
This promotion is only available November 28th and November 29th. Limited quantities are available and will be sold on a first come, first serve basis. This promotion cannot be combined with any other deals, offers, or coupons offered by Joseph's Jewelry.
It's nice to know that one jewelry store in Stuart, FL isn't forcing their customers to wake up at midnight for prices that are easy on their holiday budget, nor taking their employees away from a well deserved Thanksgiving dinner. This is truly one Stuart jewelry promotion that everyone can be thankful for.
Contact Information:
Joseph's Jewelry
5250 SE Federal Hwy Stuart, FL 34997
(772) 221-1779
jewelryofstuart.com
This press release was created for Joseph's Jewelry by Local SEO Services for Businesses(http://localseoservicesforbusinesses.com/)