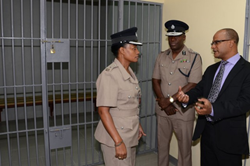 Despite the reductions in crime so far this year we cannot afford to let our guard down because things can change as we get closer to the Easter holidays
(PRWEB) April 11, 2014
Chairman of Cool Corporation and recognized mediator Joe Issa says Jamaicans and visitors alike should take the necessary precautions to avoid being victims of criminal acts during the busy April 2014 Easter festive season.
"Despite the best efforts of the security forces you cannot expect them to be present every time a crime is committed so citizens should take responsibility for their safety by staying aware and avoiding crime hot spots this Easter.
"I say this because it seems that every holiday season provides opportunities for criminals to pray on unsuspecting locals and visitors," says Chairman of Cool Corporation, Joe Issa.
According to an article by diGJamaica, the number of murders reported for January-April 2013 declined by 1.4 per cent to 344 or just under three per day, compared with the same period in 2012 but was still nine more than in 2011. It also shows that the decline in April murders seen in recent years had been reversed, with 86 recorded last year, compared with 71 in 2012.
So far in 2014 the number of murders has fallen by 10 per cent for the first six weeks to 119, compared with 132 for the same period last year, says The Gleaner newspaper in an article quoting Jamaica Constabulary Force (JCF) data.
The report also shows that so far this year all other categories of serious crimes are down except for shootings which inched up nine per cent. The areas impacted were Kingston, St Andrew, St Catherine, St James and Clarendon accounting for 87 of the 119 murders committed islandwide.
But Issa says, "Despite the reductions in crime so far this year we cannot afford to let our guard down because things can change as we get closer to the Easter holidays. We saw this happened last year during the Easter, Heroes Day, Christmas and New Year festive seasons even with increased police presence on the streets and a slew of crime reduction measures by the Security Ministry."
As a violence interruption strategy the JCF launched Operation Resilience at the beginning of October 2013 and more recently it launched the Unite for Change initiative as its principal vehicle through which efforts to reshape the cultural norms will be coordinated, says a report by the Minister. The report says the 2013 calendar year ended with 1197 murders, a nine per cent increase over 2012.
On crime and safety a report by goCaribbean says violent crime can be a real problem in Kingston and other parts of the country, but "typically such crimes involve attacks by Jamaicans on other Jamaicans and revolve around drugs, gangs, politics, poverty, or revenge."
The report says crime in tourist areas such as Montego Bay, Negril and Ocho Rios are property-oriented like pick pocketing and petty theft and that armed robberies do occur occasionally and can turn violent if victims resist.
The article informs that credit card skimming is an ongoing problem and warns visitors to keep an eye on the person who is handling their card. It also says that sexual assaults by hotel employees in resort areas on Jamaica's north coast have occurred with some frequency.
Tourists are further advised to avoid traveling in notoriously high-threat areas of Kingston, St. Andrew, St. Catherine and St. James while for locals, Issa says the concern is for the level of aggression shown towards each other often with fatal consequences, adding that they need training in conflict resolution.
In February 1996, Issa was recognized by The Dispute Resolution Foundation Ltd. for successful completion of 40 hours of training in Mediation. A mentor at the Branson Centre for Entrepreneurship Jamaica he has been commended for successfully building a multifaceted group of companies under the Cool brand, according his website at http://coolcorp.com.