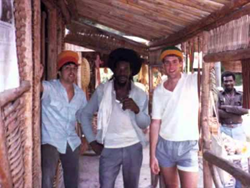 Reggae propelled the Rasta cosmology into the middle of the planet's cultural arenas...
(PRWEB) May 29, 2014
Chairman of Cool Group of Companies and Catholic Eucharistic Minister, Joe Issa, says in an interview that decriminalization and monetization of ganja in Jamaica is timely and will spur development of Rastafari communities.
Issa's statement comes on the heels of a declaration by Jamaica's first Cannabis Conference calling on the Government to create within 120 days, a road map for the decriminalisation of marijuana, recognition of its use as a sacramental right of the Rastafari community and development of a regulated medical cannabis industry.
"I think we in Jamaica have spent a lot of time talking about decriminalizing and monetizing marijuana and doing nothing about it. I think it is time that we do, especially as this will open-up business opportunities for Jamaica and the development of Rastafari communities in particular," says Chairman of Cool Group of Companies and Catholic Eucharistic Minister, Joe Issa. "The rest of the world is ahead of us; the time for action is now."
Under the theme, 'Wake up Jamaica, Our Opportunities are Slipping Away', the declaration from the May 22-24 conference at the University of the West Indies in Jamaica states, "We strongly urge our legislators to act expeditiously, and not fall prey to undue caution, legalism and conservatism, or trying to get a 'picture-perfect' solution, leading to inaction," according to Balford Henry in 'Cannabis conference wants quick action on ganja decriminalisation', Jamaica Observer, May 26, 2014.
Issa lamented the fact that "while we are quick to identify with Reggae music, which was founded by the Rastafari community and popularized worldwide by Bob Marley and others, we are reluctant to recognise their belief system and symbols, some of which are potential areas for development of their communities."
The article 'WCHC Features Two Bold Freshmen' published in The Crusader on Friday Feb 8, 1985, told the story of Issa, a young man savvy in Rastafari culture, who hosted and received raving reviews for his Reggae Radio program on the campus of College of the Holy Cross in Worcester, Massachusetts, USA in 1985. During the program he informed students of Jamaica's culture and heritage while playing Reggae music.
As a former vice president of his father's SuperClubs chain of resorts in the late 1980s to early 2000s Issa has witnessed first-hand the level of visitor curiosity in Rastafari culture in Jamaica. "A lot more can be done to bring their culture into the mainstream of tourist attractions such as their music, dance, food, dress, religion and their way of life generally" said Issa.
He stresses that "the things we take for granted about Rastafari are the very things tourists are curious about and are willing to pay for the privilege of learning about and experiencing the authentic Rastafari culture and heritage, and to take with them pictures and other memorabilia to show relatives and friends back home."
"Reggae propelled the Rasta cosmology into the middle of the planet's cultural arenas, and suddenly people want to know what all the chanting and praying and obsessive smoking of herb [marijuana] are all about," says rock critics, Stephen Davis and Peter Simon, in Rastafarianism History (BBC, 2009). It is noted however, that "smoking ganja isn't really all that central to their faith."
The main Rastafari beliefs include the Judeo-Christian God, whom they call Jah; the sacred texts of Holy Piby, the "Black Man's Bible"; marijuana use during the two main Rastafari rituals – Reasonings and Nyabingi; and a dietary law called Ital, which mandates that food be consumed in its natural state, adhering to Old Testament rules, according to 'The History of Rastafarianism' (Gleaner, n.d.).
.
The publication also cites Rastafari symbols as: dreadlocks, one of the most distinctive marks; the colours red, gold and green; and flag with the Lion of Judah, representing Haile Selassie, who had named himself "Conquering Lion of the Tribe of Judah".
Issa stresses that Jamaica can benefit significantly by first respecting, and then popularising and monetizing Rastafari beliefs and symbols, the things visitors are most curious about, citing Ital food and drinks, which are very healthy; medicinal marijuana for a wide range of ailments; ganja use as a sacramental right and memorabilia depicting their symbols.
He posits that the ritual, Reasonings, which is an outdoor gathering where members offer prayers, smoke ganja and engage in discussion, can be a tremendous attraction for locals and tourists alike, if it is approached respectfully and organised professionally, adding that the annual Nyabinghi ritual, a larger all-night celebration attended by Rastas from all over the world featuring dancing and drumming, has the potential to become a mega calendar event, drawing a large number of visitors to the island.
Works Cited:
BBC, 2009. Religions- Rastafarian history. [Online]
Available at: http://www.bbc.co.uk/religion/religions/rastafari/history/history.shtml
Gleaner, T., n.d. THE HISTORY OF RASTAFARIANISM. [Online]
Available at: Accessed 2014.