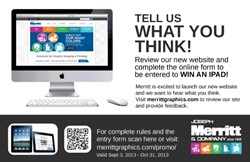 You can look at any one of the countless studies that track the growth of mobile usage. All studies show statistics that are staggering.
Hartford, Conn. (PRWEB) September 17, 2013
Keeping current with technology trends is not always an easy task especially when discussing websites. The days of testing a website on a handful of browsers to make sure it is displaying properly are long gone. The required formats for optimal viewing have changed many times over the years and now must include various devices such as desktop computers, smart phones and tablets.
Joseph Merritt Company, headquartered in Hartford, Conn., quickly realized the need for a mobile-friendly website. Merritt tested the waters by launching two mobile sites in 2012: one for its Merritt Graphics group and one for Merritt Scanning. Although it saw the benefits and reward of having some information available to mobile users, Merritt realized it was just not enough. "We have five distinct product groups, and launching five mobile sites was going to be a costly venture—not to mention the added upkeep," said Ed Perry, Merritt Owner & CEO. Even with the mobile devices, things were not always perfect. Droids and iphones, tablets and ipads, and all other mobile viewing devices required different viewing sizes. Merritt went to their web developer, Arik Brooks, Co-Founder and Owner of SoSimple Interactive, and was introduced to their solution: a new custom-designed, responsive design website paired with a content management system. The responsive design allows the new website to display optimally on any device and the content management system (CMS) allows the employees of Joseph Merritt Company to completely manage and scale every aspect of the website.
Responsive websites automatically reformat to display on all viewing devices. To accommodate the viewing screen, the website will become narrower and longer. As needed, horizontal items will stack in a vertical format. For example, the menu will transform from a horizontal bar to one button. The button then converts to a vertical drop down for selections. Some functionality may change, but the overall benefits of customers having a pleasurable viewing experience while only maintaining one website are immeasurable.
Brooks commented on the necessity of a mobile optimized website, "You can look at any one of the countless studies that track the growth of mobile usage. All studies show statistics that are staggering. Some studies predict that mobile usage will surpass desktop usage by next year. But really, all you have to do to see the importance of having a mobile optimized website, is look around. Watch how many people are engaging with their phones, checking flights, checking their bank accounts, ordering online, reading their emails, et cetera. The importance of mobile is obvious and Merritt has responded by making smart, forward-thinking choices."
Joseph Merritt Company prides itself on keeping current with technology. The more than 105 year old company which got its start in blueprinting would not have been able to survive if they were not innovators in the printing world. "As we saw technology blooming and changing the world of printing, we embraced it and incorporated it into our business plans," commented Perry. Embracing technology has grown the company to six locations across New England servicing national accounts for large format and small format digital printing, scanning and digitization, construction documents, and CAD & graphic printer sales, service and supplies. In reference to the website's new responsive design, Perry says, "We wanted to make sure our website looked updated, but more importantly that it functioned properly for today's visitors. It is all about what is convenient for our customers." To make sure the site functions properly for its visitors, Merritt is inviting viewers to submit a review of the site to be entered to win an ipad.
To see the new website or to learn more about Joseph Merritt Company please, visit: http://www.merrittgraphics.com. For more on custom designed, mobile friendly websites, please visit http://www.sosimplecms.com/.