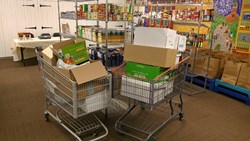 Connecticut's overall child food insecurity rate is 19.8 percent, or 157,550 children state wide.
Hartford, CT (PRWEB) November 26, 2013
Joseph Merritt Company has successfully completed its second annual company-wide food drive. Last year the company was able to donate 412 items of food and this year they are happy to report that they have donated1,141 items. The food was distributed to six locations near each of the company's branches.
Giving back to the communities has always been a theme at Merritt. Each year Merritt sponsors charitable events supporting education, health, and social concerns. The statistics for hunger in Connecticut, despite the fact that it is considered the wealthiest state, are staggering. Connecticut Food Bank reports that 1 in 7 households do not have the means to provide for the food they need. The Child Food Insecurity 2013 Study shows Connecticut's overall child food insecurity rate is 19.8 percent, or 157,550 children state wide. This number has increased from last year's overall rate of 18.8 percent. Food insecurity is a phrase used by the USDA to describe lack of consistent access to adequate amounts of food for an active, healthy life. The study also reports a large portion of these children come from homes that do not qualify for federal or state assistance.
Pantries and food banks have always relied on donations in order to help as many families as possible. With the latest government spending cuts to food stamps, the need for public donations has increased. To help encourage employee donations, Ed Perry, President and CEO of Joseph Merritt Company, decided to make the competition this year more enticing. "Last year we gave the branch that donated the most food an additional $100 to donate to their local food bank. This year we offered $100, $50 and $25 to the top three contributing employees." The top contributor was Sara in the New Haven branch with a grand total of 194 items. "I know my employees have big hearts. I knew they would donate regardless of an incentive, but I wanted to make it even more worthwhile." Considering the amount of donations from last year nearly tripled, it seems the incentive worked.
The food drive ended the Friday before Thanksgiving in hopes that everyone would have something to be thankful for this year. The following pantries received donations from the Joseph Merritt Company food drive. The MANNA Community Pantry in Hartford, Dorothy Day Shelter in Danbury, CT Food Bank in East Haven, Amos House in Providence, RI, and Woburn Council of Social Concern Food Pantry in Woburn, MA.
Joseph Merritt Company is a national leader in the graphic imaging industry. Headquartered in Hartford, CT since 1908, the "Merritt" company has always been a trend setting, highly diversified company. With its five unique product groups, Merritt offers customers a full complement of digital services ranging from document printing, grand-format and small-format printing, direct mail services, custom graphic fabrication, to document scanning, and document retrieval.
To learn more about Joseph Merritt Company, please visit merrittgraphics.com.