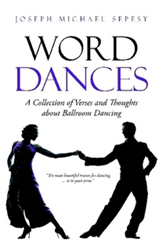 POLAND, Ohio (PRWEB) December 04, 2014
Author Joseph Michael Sepesy shares his experiences starting dance lessons at the age of 59, as a treatment for his post-traumatic stress disorder, in his new book, "Word Dances: A Collection of Verses and Thoughts about Ballroom Dancing" (published by Lulu).
"Having experienced the joy of dancing, numerous thoughts about dancing began to come to me," Sepesy says. "My book presents ballroom dancing, as never presented before."
"Word Dances" is a compilation of Sepesy's thoughts on dancing in the form of poems and short stories. He offers reflections on and explorations of his personal experiences with dancing, hoping to evoke similar memories in others. Aimed at beginners and seasoned dancers alike, this collection speaks to the impact that dance can have on anyone's life and well-being.
An excerpt from "Word Dances":
"During this time of life's transition, I found thought upon thought about dancing germinating in my mind. Time to put them to paper—time for other dancers to relate, smile, and say, 'Yes, I know. That's exactly what happened to me.'"
"Word Dances"
By Joseph Michael Sepesy
Softcover | 6 x 9 in | 124 pages | ISBN 9781312396722
E-Book | 124 pages | ISBN 9781483419299
About the Author
Joseph Michael Sepesy was born in Youngstown, Ohio. He is a former musician, U.S. Army helicopter pilot, Vietnam veteran and retired teacher. He has a bachelor's degree in special and elementary education. He currently lives in Ohio.
Lulu empowers people of all ages to explore and express their interests, passions and expertise through books, photography and art. Since introducing self-publishing in 2002, Lulu has empowered creators in more than 225 countries and territories to produce nearly two million publications. Lulu Jr. allows children to become published authors, encouraging creativity, strengthening literacy and building self-esteem. Picture.com offers professional photography of collegiate and professional sports, memorable and historic events, fine art and home décor. For more information, please visit lulu.com.