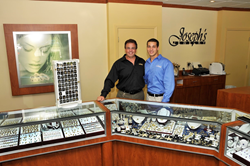 Jewelry Store in Stuart, FL Reveals Christmas Gift Collection at Their Stuart Location
Stuart, Florida (PRWEB) December 03, 2014
The holiday spirit is spreading in Stuart, FL as Joseph's Jewelry reveals a remarkable selection of magnificent jewelry just in time for holiday shopping. Each piece in this Christmas collection was hand selected by Joseph Napoli, owner of Joseph's Jewelry. Shoppers who have a long gift list will appreciate that all of the jewelry at this local small business is priced 15-20% lower than the sale prices of other local jewelry stores.
This assortment of holiday finery includes pieces from several popular jewelry designers. The holiday display case currently holds Marahlago larimar pendants, Gabriel and Co. gemstone necklaces and rings, Citizen watches, and a vast array of Kabana nautical pendants. The selection of jewelry is very diverse and includes jewelry for men and women. Many of the items are unique and won't be available at other stores. Each piece is available in limited quantities and can be viewed now. Shoppers can visit https://www.facebook.com/JosephsJewelry for more information.
"The holiday season is busy for everyone and that's why we put together this great collection of jewelry. We wanted to provide an assortment of jewelry that included designer watches, diamond rings, nautical pendants, gemstone earrings, and pearl necklaces so our customers would have a variety of jewelry to choose from when shopping. This makes it a lot easier than having to go from store to store to find the right gift. This collection is also priced competitively so that eliminates the need to price shop. Shoppers who enjoy shopping at small businesses will find what they want and save big at the same time," said Joseph Napoli, owner of Joseph's Jewelry in Stuart.
Joseph's Jewelry is family owned and operated jewelry store in Stuart, FL and his been in business since 1990. They have the largest selection of fine jewelry on the Treasure Coast and are a trusted source of diamond engagement rings and designer jewelry. They are known for their quality jewelry repair services and custom jewelry creations. They pride themselves on providing their customers the most value for their money. Their customers enjoy shopping at their convenient Stuart location, because the sales staff is friendly and knowledgeable and it saves them a trip to the crowded mall. Shoppers can visit http://www.yelp.com/biz/josephs-jewelry-stuart to read real reviews.
The Christmas collection at Joseph's Jewelry is available in limited quantities and will be sold on a first come, first serve basis. Customers can call 772-214-1995 for pricing information. No coupons may be used on the jewelry in this collection.
The holiday season can be a trying time for many people, because it takes a lot of time to prepare for family festivities and budgets are usually stretched to the maximum. Luckily people who want to purchase jewelry for their significant other can find unique pieces at fair prices when they shop at Joseph's Jewelry of Stuart. Their Christmas collection will be sure to turn a few heads and is yet another example of how shoppers can get a better deal when they shop at small businesses.
Contact Information:
Joseph's Jewelry
5250 SE Federal Hwy Stuart, FL 34997
(772) 221-1779
jewelryofstuart.com
This press release was created for Joseph's Jewelry by Local SEO Services for Businesses(http://localseoservicesforbusinesses.com/)