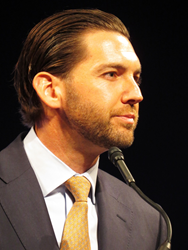 Josh Cote is a renowned entrepreneur in the both UK and USA market.
London (PRWEB) January 26, 2016
Highly successful and motivating entrepreneur, Josh Cote has continued to inspire budding business owners and entrepreneurs at a recent two-day conference at the Hilton London Bankside Hotel on Friday 22nd January and Saturday 23rd January 2016. The conference on the Friday was attended by guests with an invitation only, however the second day was open to a wider audience group of business men and women.
About Josh Cote: http://www.joshcoteentrepreneur.com/
Entrepreneur, Josh Cote was in charge of hosting the event to ensure its smooth running, being responsible for welcoming those to the conference and closing at the end; in addition Josh Cote was delivering a speech on the hot topic of Improving Recruitment.
As well as the conference offering a chance to network with other business professionals, it was an opportunity for business owners to listen to speeches from some of the industry's top performing business experts, to learn from their experiences, and use the new found inspiration to help develop their own business and achieve greater success in 2016.
The Hilton London Bankside hotel was chosen for the conference because of its ideal location in the heart of Bankside, just steps from some of London's most famous landmarks such as Tate Modern, Borough Market and The Shard. As well as the preferable location, the Bankside hotel is suitable for occasions such as conferences, featuring complimentary Wi-Fi and 10 000 sq.ft of amazing event space plus various meeting rooms for smaller groups.
Managing Director of EA Worldwide Acquisitions, Josh Cote is a renowned entrepreneur in the both UK and USA market. He is dedicated to fostering a greater education of entrepreneurship, business development and opportunities for individual development and growth. Since starting his first business in Boston, USA in 2001, Josh Cote has excelled in the outsourced sales and marketing industry, rapidly expanding his company EA Worldwide Acquisitions, to numerous markets around the UK. The talented businessman now uses his exceptional business knowledge to coach, mentor and train entrepreneurs around the world and is one of the industry's biggest entrepreneur who new business owners look up to and admire.