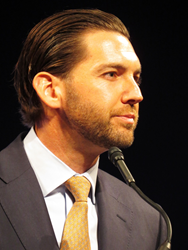 The whole event was hugely inspiring and the energy and enthusiasm from all attendees is what makes me so proud to be part of this industry'
London (PRWEB) July 21, 2015
Last week Josh Cote of EA Worldwide Acquisitions flew out the US for a weekend of celebration at the USA Sales and marketing Awards in Baltimore. The annual event invited business owners and industry leaders from across the world to come together and celebrate the runaway success the sales and marketing industry has experiences over the last 12 months, not just in the US, but on a vast global scale. Josh Cote joined business leaders from all over Europe, Canada and Australia as special guests to the Weekend's award ceremony which honoured the very best US professionals with a selection of coveted awards, such as Rookie of the Year, and Business Owner of the Year.
About Josh Cote: http://www.joshcoteentrepreneur.com
Before attending the event in Baltimore, Josh Cote Flew to New York where he spent 3 days networking and meeting with business partners and friends. As well as meeting with New York based entrepreneurs and business owners the networking trip also played host to some of the UK and Australia's most talented business owners and provided all involved with a fantastic opportunity to talk strategies and discuss the what the future holds for the direct marketing industry.
Josh Cote was invited to spend the day on a client's private yacht where he was able to take in the City's sights in style and experience stunning river views of Manhattan and the statue of Liberty before jetting off on a private plane to Baltimore for the main event of the trip.
The US Sales and Marketing Awards Ceremony were held at Baltimore's iconic Hippodrome Theatre which has stood at the heart of downtown Baltimore for over 70 years. The grand and historic building provided the perfect backdrop for the prestigious awards ceremony and more than matched the grandeur and importance of the occasion. As well as being invited as a special guest, Josh Cote was also granted the honour of presenting an award on stage. Josh Cote was delighted to be asked and was eager to congratulate the recipient on their tremendous success. "The whole event was hugely inspiring and the energy and enthusiasm from all attendees is what makes me so proud to be part of this industry" stated Josh Cote.
As an American, Josh Cote was thrilled to be able to take some time away from work and relax whilst in the US. Originally from New Hampshire the trip provided him with a rare opportunity to visit home before heading back to London.
Josh Cote is a leading London based entrepreneur; business owner and mentor who is committed to helping young sales and marketing professionals learn skills and set the goals needed to become a successful business owner. Through motivational meetings and interactive events Josh Cote helps young people develop a winning, result driven mind set so that they can reach their full potential and accomplish their ultimate business dreams.