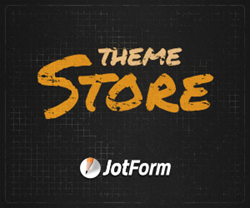 JotForm Theme Store is the first ever theme store where designers can sell their form designs to buyers.
San Francisco, Ca (PRWEB) December 15, 2014
Starting Monday, Dec. 15, JotForm users can choose from over a hundred user-curated form themes to buy from the company's brand new Theme Store. JotForm, long known for being an easy form building tool, launched an advanced form theme design feature (the Form Designer) back in October that allowed designers to create beautiful, customized form themes in a fraction of the time it once took using standard CSS. Now with the Theme Store, users can take those very same form themes and sell them to eager buyers who aren't interested in doing all the design work.
"We're really excited about being able to provide so many beautiful themes to all our users," said Aytekin Tank, founder of JotForm. "It's really a win-win for everyone who uses JotForm."
All throughout the month of November, the company ran a contest, entitled the Web Form Design Awards, challenging users to create the best form designs using the new Form Designer. A Theme Store ended up being the natural solution for showcasing the surplus of beautiful new form themes.
"Our awards were a great chance to introduce the world to our Form Designer," Tank said. "But the Theme Store is a great chance to introduce the world to hundreds of talented designers. I think that's the best part."
Designers can make money for their designs that they publish to the user-curated marketplace that is the Theme Store. Most themes may be available for free, but JotForm users are welcome to set a price for their theme (the suggested range is $5 to $20). This gives added incentive for designers to create especially useful, attractive and winning forms for all users to enjoy.
Adding themes to the store is a simple process: when users finish designing a form in the Form Designer, they just need to click "Publish to Theme Store," then select their own pricing. Here's a quick explainer video describing the process.
Headquartered in San Francisco, JotForm has helped over 1.5 million users with forms since 2006. Now offering the most advanced form builder, and making available ready-made form themes for everyone to easily buy and sell, all of your website form needs should be taken care of. For more information about the company, visit http://www.jotform.com.