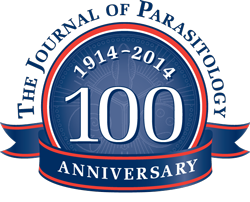 New Orleans, LA (PRWEB) August 19, 2014
September 2014 marks 100 years since publication of the first issue of The Journal of Parasitology. To celebrate, more than 300 parasitologists gathered July 24-27 in New Orleans for the annual meeting of the American Society of Parasitologists, publisher of the journal.
The meeting featured a special Centennial Symposium focused on the journal, known informally as JP. During these 13 presentations, researchers discussed how articles from the journal have led to a better understanding of parasitism, from extensive studies of individual species such as Toxoplasma and Giardia—which infect millions of humans and animals around the world—to the role of parasites in ecological studies.
"Remember that parasitism is the most common way of life on earth," said John Janovy, Jr., 2013-2014 ASP president and co-organizer of the symposium. "And that means that parasitism as a general phenomenon is so diverse and so widespread and so accessible as an area of study that if you decide you're going to be a parasitologist and read JP, you're going to come away very broadly educated."
The symposium paid particular tribute to the most prominent parasitologists of the past 100 years, including Henry Baldwin Ward, who founded JP in 1914. Others who left their mark include Joseph Leidy, Maurice C. Hall, Brayton Ransom, and Charles Stiles, who was instrumental in eliminating hookworm disease from the southeastern parts of the United States.
From the earliest days of the journal—the first published description of the life cycle of a parasite was published in JP in 1915—the journal has contributed to a more thorough understanding of parasitism's effect on our world. A 2010 paper by current editor Michael Sukhdeo, for example, showed the importance of including parasites in food webs, ecological models that document linkages in an ecosystem.
Technology such as electron microscopy, pharmaceuticals, and the modern computer have certainly helped move parasitology forward, but progress owes just as much to a better overall understanding of how parasites work and, in some cases, some low-tech solutions. "The only helminth parasite we know of that has been effectively managed in recent years is Dracunculus medinensis," said Gerald Esch, editor of the journal from 1994-2012 and co-organizer of the symposium with Janovy, referring to the roundworm also known as Guinea worm. "It is almost gone now, and ironically not because of a huge technological discovery, but because of a small piece of cloth." Water filtered through the cloth becomes parasite-free. Education about such simple and effective filtration methods has been key to dramatically reducing incidence of Guinea worm disease.
Esch noted, however, that we still have parasitic diseases that cause a great deal of suffering, such as malaria and schistosomiasis. "Parasitology has changed significantly," Esch added, "but parasitism has not." Though we have treatments such as quinine, ivermectin and praziquantel, they have begun to lose their effectiveness over time. And we have several emerging diseases that weren't on anyone's radar when the journal began in 1914.
The journal has gone through many changes of its own over the years. The cover changed from gray to yellow in the early 1960s, and changed again to deep blue in 1995. That same year it grew physically from its original 7 x 10-inch format to an 8 ½ x 11-inch format and, one year later, embraced the digital age by establishing an online version. All previous volumes have been scanned and are available through JSTOR, while content from 2000-current is available through BioOne and through the journal's own website, http://www.journalofparasitology.org. More recent features include an all-electronic manuscript submission system and e-mail alerts that tell readers when new issues are posted online.
For the 100th volume, the journal worked with its co-publisher, Allen Press, to create an anniversary cover of metallic silver with the ASP logo as a background. The journal's website features videos of interviews with prominent parasitologists discussing the role of the journal and the society in their fields of study.
The centennial symposium came to a close with comments by Esch, the 13th of 14 editors in the history of the journal. He noted that while research on parasites will be going on for a long time, it's appropriate to take a moment to appreciate the journal's legacy thus far. "Our journal has come a long way from the content of Volume 1 when Henry Baldwin Ward published the first issue in 1914. If Ward was here now and had a glass of champagne in his hand at this moment, we are confident that he would rise and say to those present today, and to all who have gone before us, well done."