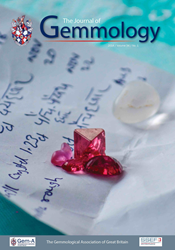 This issue debuts an updated format and several new sections that will enhance the practical value of the Journal to its readers.
New York, NY (PRWEB) May 06, 2014
Published by Gem-A in collaboration with Swiss Gemmological Institute SSEF, the new issue features a diverse line-up of articles, including Galileo's attempt at scientifically testing gemstones (by A. Mottana), purple to reddish purple chrysoberyl from Brazil (by K. Schmetzer, J. Hyršl, H.-J. Bernhardt and T. Hainschwang), natural and imitation hornbill ivory (by J. Liang, H. Li, T. Lu, J. Zhang, M. Shen and J. Zhou) and the detection of ruby crystals in marble host rock using X-ray computed tomography (by A. Bouts).
Editor-in-Chief Brendan Laurs stated, "This issue debuts an updated format and several new sections that will enhance the practical value of the Journal to its readers." In this issue, the 'What's New' section notifies readers about studies of tourmaline magnetism, HPHT-treated diamonds and CVD synthetic diamonds, whilst simultaneously announcing the release of updated (2013) CIBJO Blue Books, various gemological laboratory newsletters, additional JVC Essential Guides, and the opening of the MIM Mineral Museum in Beirut, Lebanon. A 'Practical Gemmology' section explains how to take photomicrographs through a microscope using a smartphone camera. The new 'Gem Notes' section, which documents interesting finds from the world of gemology, describes colorless cat's-eye apatite, prismatic Ethiopian aquamarine crystals, blue chrysocolla chalcedony from Peru and the discovery of a remarkable painite specimen, amongst others.
These new sections of the Journal are accompanied by a comprehensive listing of upcoming conferences, exhibits and other educational events to further the professional development of its readers, which have been complied into the new 'Learning Opportunities' section. In addition, the 'Excursions' portion of the Journal gives colorful descriptions of recent expeditions to gem-producing areas—with two reports on Mogok, Myanmar. This is complimented by the latest 'Gem-A Notices', a reprint of a classic 1954 Journal article in the 'From the Archives' section, and reports from the latest gemological gatherings given under 'Conferences'.
Laurs went on to say: "We are excited to have the Journal return to a quarterly publication schedule and to introduce the updated design and expanded content. We are confident that these features will make the Journal an even more useful and educational resource."
The first issue of Volume 34 is available to Gem-A members and institutional subscribers in hardcopy and online. For more information on the new Journal, please visit the Publications section of Gem-A's website, where you can also sign-up for the Journal's mailing list.
-Text Ends-
Notes to Editors:
About Gem-A
The Gemmological Association of Great Britain, or Gem-A, a London-based educational charity, is the world's longest established provider of gem education and a membership organization that forms an international community of gem professionals and enthusiasts. Gem-A seeks to serve the best interests of the gem and jewelry industries worldwide through its commitment to supporting gemological research and high educational and trade standards. For information see http://www.gem-a.com. Please direct any further media enquiries to miles(at)gem-a(dot)com.
To find out more about Gem-A in general, please follow us on Twitter: @GemAofGB or via Facebook: fb.com/GemAofGB
About The Journal of Gemmology
The Journal of Gemmology has been the official journal of the Gemmological Association of Great Britain since the company was incorporated in 1947. It is published quarterly in print and electronic formats. All Gem-A members receive The Journal as part of their membership package, keeping them up-to-date with new gemstone sources, the latest synthetic and simulated gems and gemstone treatments. Institutional subscriptions are available to laboratories, libraries, museums and similar organizations.
To contact the Editor-in-Chief, please direct correspondence to Brendan M. Laurs MS FGA GG, The Journal of Gemmology, 1106 2nd St., #317, Encinitas, CA 92024 USA, brendan(at)gem-a(dot)com.