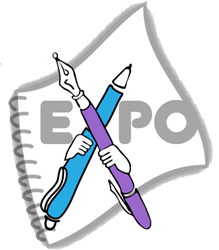 We promise that you'll have at least one 'a-ha moment'.
Boston, MA (PRWEB) January 03, 2014
The Second Annual Journaling Expo, an online event, is scheduled for Sunday, January 12, 2014, from 1pm to 4pm EST.
The event is sponsored and produced by CreateWriteNow.com, a website published by Mari L. McCarthy, journaling therapy specialist.
Presenters at this year's Expo include: Hannah Braime, of BecomingWhoYouAre.net, Nathan Ohren of Write4Life.us, and Lynda Monk of CreativeWellnessWorks.com. The event is hosted by CreateWriteNow and includes talks by the presenters, question and answer sessions, attendee chat area, door prizes, and bonus gifts.
Kicking off the Expo will be Hannah Braime, discussing A Friend When We Most Need It: Overcoming Resistance to Journaling and Embracing Our Stories. Braime specializes in approaches to authentic living and she will share some tips for helping to create life authentically, as Braime puts it, "from the inside out."
Next up is Nathan Ohren, the Write4Life Coach, discussing Journaling for Business and Career Development. A successful corporate manager, Ohren will talk about the many helpful ways that journal writing can enhance working life, sharing ideas about journaling as an integral part of professional development.
Lastly, Lynda Monk, MSW, RSW, CPCC will talk about Reflective Journaling for Self-Care and Well-Being. A recognized authority when it comes to the healing and transformational power of writing, Monk will show how journal writing can improve health, using her 5-step reflective journaling method for self-care, self-discovery, creativity, and wellness.
All three speakers will be available throughout the event for discussion and answering questions.
Additional information about journaling is available at the event website, including a number of videos about creating and keeping a journal and blog posts on the subject, shared by a wide variety of journaling experts from all over the internet.
The Expo is recommended for:

Anyone interested in learning more about personal journaling;
Journalers who would like to interact with other people who journal;
People who are striving to reach a goal;
People who want to arrive at a better understanding of a situation;
Those seeking to know themselves better;
Anyone who wants to increase self-confidence;
People looking for ways to be more at peace.
Expo Sponsor Mari L. McCarthy, who was a featured presenter at last year's 1st Annual Journaling Expo, assures prospective attendees that they'll have a great time. "We promise that you'll have at least one 'a-ha moment' and that you'll sign off with a renewed sense of appreciation for journaling, a ton of new journal writing ideas, and a sense of community with other journalers."
There is no charge to attend the online Expo. Participants may register at http://journalingexpo.com.