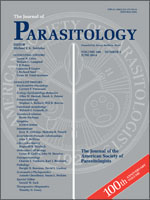 Lawrence, Kansas (PRWEB) June 19, 2014
Until 2009, paleoparasitology, the study of parasites from the past, had never received recognition for being its own discipline among the sciences, and had always been considered "adjunct" to the study of prehistoric populations. This all changed when The Journal of Parasitology presented a cover story regarding paleoparasitology.
For seven decades, scientists have been exploring the origins of parasites and used eggs found in the tissue of Egyptian mummies to support their earliest research. The article "A Retrospective Examination of Paleoparasitology and Its Establishment in The Journal of Parasitology," traces the evolution of paleoparasitology from how it began with a few scientists and only 665 publications over 65 years, to a global-interest phenomenon with more than 574 written pieces since 2000.
The study of parasites was largely based on studying the tissues of mummified remains, however in the 1960s and 1970s, when human health and diet began to pique interests, paleoparasitology began to change. This area of study, done by looking at the parasites found in the feces of human remains, was a way of connecting culture, diet, and health among the prehistoric populations and was of great interest to archeologists and anthropologists. During this time period, most studies originated from Denmark, the southwestern United States, and Columbia.
During the next two decades, paleoparasitology began to flourish worldwide. Studies began emerging from the Aleutian Islands, China, Greenland, North America, South America, and the United Kingdom. Forty-seven research pieces featuring paleoparasitology were published in 25 different journals and the first papers focusing on the study of parasites were published in The Journal of Parasitology. The 1980s and 1990s were considered the "Formative Years," and several breakthroughs were seen regarding diagnostics, taxonomy, and collaborative efforts between researchers and laboratories.
The 21st century has catapulted paleoparasitology into becoming a sub-discipline of its own. Molecular tools and diagnostics are being used for the first time. More than 50 researchers worldwide have self-identified as paleoparasitologists, and the first works have been seen from Japan and Korea. Papers published during this period have focused on epidemiology, host migrations patterns, and translocation of parasitic species, among others. What is clear, is that paleoparasitology has come a long way in the last seven decades, and the 2009 article featured on the cover of The Journal of Parasitology shows that it has been emerging as a more recognized scientific discipline.
Full text of the article, "A Retrospective Examination of Paleoparasitology and Its Establishment in the Journal Of Parasitology," The Journal of Parasitology, Vol. 100, No. 3, 2014, is now available.
About the Journal of Parasitology
The Journal of Parasitology is the official journal of the American Society of Parasitologists (ASP). It is a medium for the publication of new original research, primarily on parasitic animals, and official business of the ASP. The journal is intended for all with interests in basic or applied aspects of general, veterinary, medical parasitology, and epidemiology. For more information, visit http://www.journalofparasitology.org.