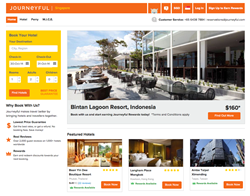 Journeyful is making travel better by bringing hotels and travellers together.
Singapore (PRWEB) November 12, 2014
Journeyful announces today the re-launch of its reward based online travel agency – Journeyful.com, with increased hotel inventory of over 200,000 properties worldwide. The website, with a fresh new look and user-friendly navigation, features a best price guarantee, Facebook sign-up integration and the most generous Rewards Program available on any online booking site. To mark the occasion, all existing and new registered users of journeyful.com will receive US$10 to apply towards their next booking.
"Travelers can earn up to 8% of their total booking amount as Journeyful Booking Rewards," says Elizabeth Webster, Business Development Manager at Journeyful. "Travelers can also earn achievement rewards, invite friends to Journeyful and earn referral rewards every time their friend makes a booking."
Addressing the pain points of suppliers – Journeyful is working towards dramatically lowering their third-party distribution and marketing costs with the aim of reducing the commissions hotels pay, from over 25% to under 5%. By listing on Journeyful directly, suppliers – hotels & ferry operators – can control their rates and inventory in real time. Hotels can also create their own tailored Reward Campaigns on Journeyful to woo both return and new customers to their property.
With the new website, Journeyful is also introducing Scout, the friendliest alpaca and travel guru as their mascot. He will be popping up from time to time on the website and Journeyful's social media pages with exciting updates, promotions and fun contests for users.
Journeyful is always interested in getting user feedback in order to ever improve the guest experience. "We've created a public board where users and partners can suggest new features, report bugs or even share thoughts about our site. We will continue to evolve the website," says Moe Ibrahim, Founder and CEO at Journeyful. "Look out for new features and updates in the coming weeks"
For information about Journeyful.com, please contact press(at)journeyful(dot)com
About Journeyful
Founded in 2010 and based in Singapore, Journeyful.com is a trusted marketplace for hotels to list their properties and customers to book their accommodation at the best prices. Journeyful connects hotels directly to both online and offline customers.
Journeyful develops a suite of apps and provides services to the travel industry. Their product and service portfolio includes: Journeyful.com - a rewards-based online travel agency, Journeyful Travel – connecting retail travel agencies to local communities, and Journeyful MICE– providing full-service solutions for business conferences, corporate events and incentive designed tour groups. Please visit us at http://www.journeyful.com.
For media enquiries please contact:
Journeyful
Ms. Pallavi Malviya Gupta
Marketing & Communications Manager
Phone: +65 6485 5187
Email: pallavi(at)journeyful(dot)com | press(at)journeyful(dot)com