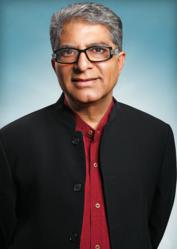 At "Journey into Healing: Super Brain," Drs. Deepak Chopra and Rudolph Tanzi will share the most exciting new discoveries in neuroscience, including our power to influence the activity of our genes to prevent diseases and promote health.
Carlsbad, California (PRWEB) July 02, 2013
This August 22–25, the Chopra Center's signature mind-body healing workshop, Journey into Healing: Super Brain, will take place at La Costa Resort & Spa, where Deepak Chopra, M.D. and a team of mind-body healing specialists will lead an in-depth exploration of integrative medicine that combines the wisdom of Eastern healing traditions with the newest discoveries in medical science.
The keynote speaker at this August's Journey into Healing workshop is Dr. Rudolph Tanzi, a world-class brain researcher and Harvard professor who has discovered many of the genes for Alzheimer's disease. Dr. Tanzi and Dr. Deepak Chopra co-authored the best-selling book Super Brain: Unleashing the Explosive Power of Your Mind to Maximize Health, Happiness, and Spiritual Wellbeing.
"At Journey into Healing, Dr. Tanzi and I will share some of the most exciting discoveries emerging from the field of neuroscience, including our power to influence the activity of our genes to prevent diseases and promote health," said Deepak Chopra.
"We now know that through daily lifestyle choices and other simple mind-body practices, you can actively shape new neural pathways. You can keep your memory intact, preserve your brain's health, and minimize the risk of aging and senile dementia – things that are greatly feared as people grow older. We're looking forward to exploring these insights and teaching the keys to mind-body health and longevity at Journey into Healing this August," Dr. Chopra said.
Offered only a few times each year, Journey into Healing is an intensive workshop that brings together the top minds in a variety of fields encompassing mind-body health, neuroscience, psychology, and personal transformation.
Every year hundreds of people from around the world attend Journey into Healing – including healthcare professionals as well as individuals seeking knowledge and lifestyle tools for healthy living. Journey into Healing is an accredited mind-body medicine course offering continuing education credits for healthcare providers. For more information, please call 888.736.6895 or click here.
About the Chopra Center for Wellbeing
The Chopra Center for Wellbeing was founded by Deepak Chopra, M.D. and David Simon, M.D. in 1996. Located in Carlsbad, California, the Center offers a wide variety of programs, retreats, and teacher training programs that integrate the healing arts of the East with the best in modern Western medicine. The Chopra Center has helped millions of people around the world find peace of mind, physical balance, and emotional healing. The website http://www.chopra.com is your starting point on the path to wellness.
About Deepak Chopra, M.D., F.A.C.P.
Founder of the Chopra Center for Wellbeing
Deepak Chopra, M.D. is the author of more than 65 books, including numerous New York Times bestsellers. His medical training is in internal medicine and endocrinology, and he is a Fellow of the American College of Physicians, a member of the American Association of Clinical Endocrinologists, and an adjunct professor of Executive Programs at the Kellogg School of Management at Northwestern University. He is also a Distinguished Executive Scholar at Columbia Business School, Columbia University, and a Senior Scientist at the Gallup organization. For more than a decade, he has participated as a lecturer at the Update in Internal Medicine, an annual event sponsored by Harvard Medical School's Department of Continuing Education and the Department of Medicine, Beth Israel Deaconess Medical Center.
About Dr. Rudolph Tanzi
Rudolph Tanzi, Ph.D. is a professor of neurology at Harvard University Medical School, Director of the Genetics and Aging Unit at Massachusetts General Hospital, and author of Decoding Darkness: The Search for the Genetic Causes of Alzheimer's Disease. He also serves as the head of the Alzheimer's Genome Project. Dr. Tanzi has been investigating the molecular and genetic basis of neurological disease since 1980, and during the past several decades he has collaborated on many studies identifying other disease genes, including those that contribute to amyotrophic lateral sclerosis (ALS) and autism.
Media Contact:
Kathy Bankerd
Chopra Center Marketing Director
(760) 494-1609