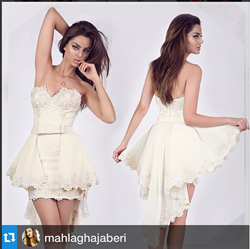 Los Angeles, California (PRWEB) March 12, 2016
Paris Dress, the world's premier online fashion house, has recently announced its partnership with Jovani Fashion, the top designer of formal dresses. From weddings and proms, to special events and red carpet appearances, shoppers will undoubtedly find the perfect designer dress with the help of Paris Dress. Furthermore, the fashion store is offering 10% off all purchases, fans can use code 'USAPARIS10' to receive this discount.
It has been several years since Paris Dress (http://www.parisdress.com) took the fashion scene to another level. Now, shoppers no longer have to make their way to brick-and-mortar stores to get their hands on designer dresses. With a few simple clicks, Paris Dress has made an array of well known dresses by some of the most renowned fashion designers in the world, readily available to their vast customer base.
With Spring fast approaching, it comes as no surprise that Paris Dress is offering not only designer dresses by Jovani Fashion, but also 10% off all purchases. From Singapore to Milan, fashionistas all over the world no longer have to worry about what to wear for upcoming special occasions. With Paris Dress' comprehensive selection of gowns, shoppers can now revel in the fact that they can take home designer outfits at affordable rates.
Besides offering shoppers Jovani Fashion dresses and a Spring Flash Sale, here are some of Paris Dress' other offerings:
Continuous customer service
At Paris Dress, the customer comes first and to prove it, the company has a team of fashion experts constantly on standby to help. From fashion queries to delivery and payment questions, every member of the team is trained to resolve problems faced by customers. Not just that, the team promises timely and friendly service no matter what.
Satisfaction guaranteed
When shopping online, customers value absolute satisfaction. There is nothing worse than receiving a delivery and having to send the goods back. When it comes to Paris Dress, every order is carefully packaged and shipped, and the company guarantees satisfaction from start to end. From the moment customers log on to the fashion house's website, to the minute their delivery arrives at their doorstep, Paris Dress takes great care to ensure that every logistical step adheres to the company's high standards.
Rapid and complimentary shipping
Customers do not have to worry about waiting for months on end for their designer dresses to arrive. Paris Dress understands the importance of rapid service and this is exemplified through the company's shipping policies. From next day delivery to weekend delivery, customers can decide when and where they want their purchases shipped. Moreover, Paris Dress is pleased to offer complimentary shipping no matter where in the world the customer is based.
Safe and secure shopping
Shoppers need not worry about keeping their personal and financial information private when they shop at Paris Dress. The company has made it very clear that privacy is a priority. They utilize SSL technology to ensure that everyone who buys something from them has the most secure shopping experience possible. For more information on Paris Dress' privacy policy, shoppers are encouraged to email the team at info(at)ParisDress(dot)com.
With the arrival of Jovani dresses into Paris Dress' stellar fold of top designers, fashion lovers can now shop for everything from pink prom dresses to sequined designer gowns under one roof. Not just that, the 10% discount offered gives everyone the opportunity to purchase multiple outfits. To check out Paris Dress' Flash Sale and the latest collection of dresses, head to http://www.parisdress.com or call (855) 804-0515 today.