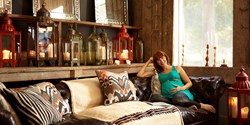 Joy & Revelry is honored and excited to have California Home + Design and Glitter Guide as part of our Style Maven family.
San Francisco, CA (PRWEB) August 20, 2013
Joy & Revelry announces the addition of multi-platform media publication California Home + Design and online lifestyle website Glitter Guide as Style Mavens who will curate and manage their own branded storefronts on Joy & Revelry's platform.
Joy & Revelry is the premier social commerce platform for style influencers to recommend products to their followers via their own dedicated online store. Joy & Revelry's Style Mavens are recognized lifestyle bloggers, Pinterest tastemakers, and multimedia publications that are trusted by millions for their tastes and aesthetics in lifestyle and home décor. Glitter Guide and California Home + Design will join the ranks of influential Style Mavens such as Rue Magazine, an online lifestyle publication, and blogs like Copy Cat Chic and La Dolce Vita.
"Joy & Revelry is honored and excited to have California Home + Design and Glitter Guide as part of our Style Maven family. They each represent a distinctive brand with a loyal audience who is hungry to engage with them on multiple levels," says company co-founder Gregory Lok. "Without a doubt, they are a great complement to our existing Style Mavens," says fellow co-founder Jennifer Wu.
California Home + Design is a quarterly print and daily online publication dedicated to highlighting interior design, architecture and home decor in California. "Design is personal. Without the story of intention and the emotion of expression, design means nothing. To us, the people are what give the products meaning," says Editor-in-Chief Erin Feher. "This is why we are excited to partner with Joy & Revelry, as this allows us to forge meaningful relationships with emerging designers and to introduce our audience to the designs that inspire, inform and influence us."
Glitter Guide is an online magazine that aims to delight and inspire, adding "sparkle" to its readers from the inside out. It provides daily features and tips on fashion, beauty, design, shopping, health and fitness. "Our readers turn to us on a daily basis for guidance in their lives," says founder Taylor Sterling. "Joy & Revelry allows us to introduce our users to unique products and provide them with a one-stop shopping source for their home décor needs."
Beginning today, the public will be able to shop products selected by Joy & Revelry's newest Style Maven, California Home + Design. Meanwhile, on August 26, 2013 The Glitter Guide's curated shop will be opening to the public. New items and special, limited-release products will be added to each Style Maven's store over the coming months.
About Joy & Revelry
Joy & Revelry is an online destination for consumers seeking inspiration from today's leading tastemakers and social influencers in lifestyle and home decor. Joy & Revelry has forged relationships with many of today's top "to the trade-only" vendors as well as independent designers & artisans in order to present the most unique selection of home décor products to its members. Visit http://www.JoyandRevelry.com for more information.