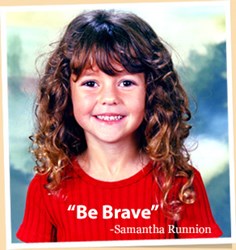 It takes a community to keep our children safe.
Newport Beach, CA (PRWEB) October 22, 2013
Who: The Joyful Child Foundation- In Memory of Samantha and Erin Runnion will honor Champions of Children: Demi Moore- Advocate of the Year; Grier Weeks, PROTECT- Samantha's Legacy Award; Maria Hall-Brown, PBS SoCal- Media Advocate of the Year; Captain Stephen Smith, LA County Sheriff's Dept. Parks Bureau- Community Partner Award; Heather Williams- Community Hero Award; and more.
What: The Joyful Child Foundation - In Memory of Samantha Runnion to honor Champions of Children at Awards Gala and Fundraiser, The Joyful Feast, and celebrate ten more years of keeping children safe from violent crimes with the launch of it's groundbreaking child safety programs: The BRAVE Programs.
The BRAVE Programs offer age-appropriate safety lessons that include verbal and physical skills to defend against sexual abuse, violence, and abduction. They include a K-12 BRAVE Curriculum to be implemented in schools as well as 90-minute BRAVE Workshops designed to be taught
through community service agencies.
The goal of The Joyful Child's BRAVE Programs is to reduce the risk of childhood victimization by providing knowledge and skills about personal safety. They are designed to nurture each student's ability to recognize potential dangers, verbalize discomfort or a need for help, and physically resist abduction, assault, or violence. Students are empowered to make brave, safe, and healthy choices.
The BRAVE Programs have reached children in Orange and Los Angeles Counties since piloting last January. Today, School Districts adopting the BRAVE Curriculum are on target to reach over 25,000 children before the end of the school year!  The Joyful Child trains teachers, non-profit partners, and law enforcement agencies to deliver our programs to children and parents. Contributions support our programs and sponsor trainings for those who cannot afford them. Please visit http://www.thejoyfulchild.org for more information and to donate. It takes a community to keep our children safe. Be Brave.
When: Saturday, October 26, 2013 from 6:00 PM to 10:00 PM (PDT)
Where: The Fairmont Newport Beach, 4500 MacArthur Blvd, Newport Beach, CA 92660
ABOUT THE JOYFUL CHILD FOUNDATION
The Joyful Child Foundation—In Memory of Samantha Runnion is a 501 (c)(3) not for
profit organization founded in 2002 after the abduction, molestation and murder of five-
year old Samantha Runnion.
In order to prevent child sexual abuse and abduction The Joyful Child Foundation will:

Be the resource for concerned parents to engage in the movement to stop predatory crimes against children.
Provide proactive education and empowerment tools to children and parents.
Facilitate collaboration among individuals, non-profit organizations, schools, businesses, and government to create sustainable community initiatives to ensure that safety education for child protection continues in perpetuity.
The Joyful Child Foundation's goal is to ensure that every child is exposed to personal safety education and opportunities to practice in order to cultivate each child's instinctual response to recognize, avoid, and if necessary, physically resist and escape inappropriate behaviors or violence. To meet this challenge, The Joyful Child has developed programs for parents and children to effectively reach every community.
Contact:
Rosy Stefanatos-Knapp
Media Relations Director
323-646-5809
RosyStef(at)gmail(dot)com