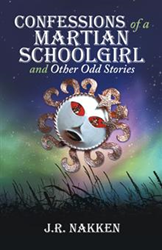 TULALIP, Wash. (PRWEB) September 18, 2015
Author J.R. Nakken invites readers to take a step back in time to the 1940s and '50s in her new memoir, "Confessions of a Martian Schoolgirl And Other Odd Stories" (published by LifeRich Publishing), which tells of her life on the prairie in South Dakota.
Nakken was the Grand Prize winner of the Inaugural Memoir Contest offered by Reminisce Magazine and Reader's Digest. The contest was sponsored by LifeRich Publishing and resulted in the publishing of "Confessions of a Martian Schoolgirl."
As a child, Nakken didn't know what normal was, let alone what it was to live a normal life. Mentally abused by her stepfather, she often felt like an outcast or Martian. She was confident her Martian people would one day rescue her, but in the meantime, she buried herself in books and a life of fantasy. Finally, she found her escape in the form of a marriage at age 16.
An excerpt from "Confessions of a Martian Schoolgirl":
"My grandma thought I was a witch. Born as she was in 1888 and raised by her own superstitious Black Irish grandparents, I guess we can't fault her. I was precocious, precognitive, left-handed and wall-eyed – any one of those attributes denoted a pact with the devil. With four in concert, I wonder that she did not drown me in the musty basement cistern."
"Confessions of a Martian Schoolgirl"
By J.R. Nakken
Hardcover | 5.5 x 8.5 in | 138 pages | ISBN 9781489704757
Softcover | 5.5 x 8.5 in | 138 pages | ISBN 9781489704733
E-Book | 138 pages | ISBN 9781489704740
Available at Amazon and Barnes & Noble
About the Author
J. R. Nakken is the winner of other writing awards, including Preservation Foundation's Short Non-fiction 2003 contest and was first runner-up in Writer's Digest's 2004 contest for her Young Adult Novel, "Three-Point Shot." She lives on the Tulalip Indian Reservation north of Seattle, Washington with her soul mate, Dale, and assorted felines.
LifeRich Publishing, the strategic publishing partnership of Reader's Digest and Author Solutions, LLC, was created to provide all writers a platform for sharing their stories, recipes, advice and more. LifeRich authors will benefit from a wealth of editorial design, marketing and education resources, specially created by Reader's Digest editors for the enrichment of these LifeSmart individuals. Books can be published in print, ebook or audio formats, with additional distribution to up to 25 million Reader's Digest customers through its online properties.For more information about LifeRich Publishing, or to begin publishing your book today, please call 1-888-238-8637 or log on to liferichpublishing.com. Follow @LifeRichPub on Twitter and "Like" us at facebook.com/LifeRichPublishing for the latest updates.