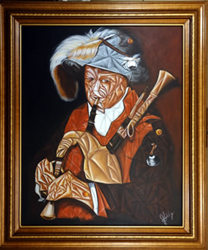 A new style of art emerges from J Scheinberg
Grants Pass, OR (PRWEB) March 21, 2017
Artist J Scheinberg unveils his new art series, Harmony and Color, six (6) unique paintings conceived in Oregon, USA and created over the course of 2016. His style has been called "a willful pastiche of historical ideas" incorporating a new inventive mixture of Postmodernism & Surrealism. The series has already circulated worldwide, with over 400,000 views in less than three days.
His style is so inventive it does not clearly fit into an existing category – necessitating the naming of this new type. Artist J Scheinberg seeks the public's input in naming this new form of art.
J Scheinberg's series, Harmony and Color, is available for viewing at jscheinberg.com and Facebook: jscheinberg.art, along with details on how to participate in naming his art style.
For more Information, please contact J. Scheinberg via email artcontest(at)jscheinberg(dot)com or by phone at (541) 248-1916