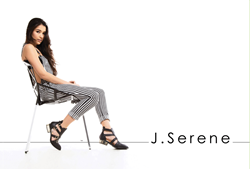 The J.SERENE woman is confident, stylish, and radiates modern chic. She is unapologetically sexy.
Los Angeles, CA (PRWEB) September 30, 2014
J.SERENE is excited to announce the launch of its updated website while it prepares for the grand opening of its new retail location in Hacienda Heights, CA this November. Its new website and brick-and-mortar store are both being released just in time for the arrival of the latest fall shoe fashion.
The redesigned website was launched in August to better reflect the brand's effortless sophistication, simplicity, and love of beautiful modern design. The improvements made to the site feature a minimalistic style and ease of navigation, allowing users to better find the item they're looking for without having to search through the entire catalogue of items.
In addition to the updated website, J.SERENE will be opening its second retail location in California this November, with its original store based in Chino. The new location marks the expansion of the fashion-forward shoe style brands, with anticipated growth throughout the remainder of the year and onward. The company plans to offer exceptional fall and winter promotions over the next several months in light of the holiday season, giving women with a passion for footwear an enticing excuse to splurge.
As a company that strives to empower modern women by supplying them with shoes that make a personal statement, J.SERENE offers must-have, quality products directly from the designers so customers can express their stylistic freedom within their budget. Founder Stacy Chen comments, "The J.SERENE woman is confident, stylish, and radiates modern chic. She is unapologetically sexy."
With its improved design, functionality, and navigation, J.SERENE's new website makes it easier than ever for women to find all of the fall shoe must-haves to start the season off on the right foot. Visitors can peruse the latest arrivals or select to filter for the specific style of boot, shoe, or for a particular trend or brand carried on the website. Users can also look through J.SERENE's Lookbook or on J.SERENE's blog, Fashion Milk, to find fashion inspiration for dressing to the shoes.
To receive updates on new arrivals, upcoming promotions, and company announcements, fans can subscribe to J.SERENE's newsletter. The shoe retailer also provides fashion updates and inspiration through social media. Fans can take advantage of special promotions by following J.SERENE on Facebook, Twitter, Instagram, and Pinterest.
About J.SERENE:
Stacy Chen founded J.SERENE in 2013 to express her passion for shoes and beautiful design. As a shoe connoisseur, Chen felt compelled to share her passion with other unapologetically sexy, confident, modern women. J.SERENE is the ultimate online shopping destination for shoe lovers to express their stylistic freedom at affordable prices. The retailer carries a variety of shoe styles by known brands, including Dollhouse, Qupid, and Anne Michelle. Currently, J.SERENE has one retail store located in Chino, CA but it will be opening the doors of its second location in Hacienda Hills, CA in November of 2014. All of its inventory is available for purchase through its website. To find out more about J.SERENE or shop its collection of fashionable footwear, please visit: http://www.jserene.com.