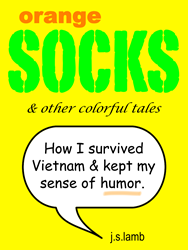 Lamb said. "I decided to go into one of the biggest and most important inspections of the year in perfect naval attire except for one thing: I wore orange socks."
Tampa, FL (PRWEB) March 05, 2016
As a free-lance writer Jim Lamb knows the drill when it comes to interviewing others—cheerleaders, clowns, authors and airplane pilots—but being on the other side of table is like "an out-of-body experience." That's how he portrayed being profiled by TheProse.com; a link to that interview can be found on his website at http://www.jslstories.com.
The retired journalist lives in Florida and writes regularly for MCA-RJ (http://myclassifiedads.net)
TheProse.com describes itself as "a reading and writing community that provides an innovative social platform for creating and consuming literature. It's a place where your words are never censored and always remain your own." Lamb is "a regular poster of some awesome wordsmithery" as well as "a great supporter and commenter," a Prose staffer said.
For his part, Lamb listed why he enjoys writing at The Prose: "The intimacy. The great young talent. The exuberance. Immediacy. Feedback. I can't imagine what it would've been like having TheProse.com growing up."
During the interview, he singled out an English teacher at Windber Area High School as a major influence:
"She saw past my motorcycle boots, long hair, sunglasses and teen-induced moodiness," Lamb said, affectionately. "She planted seeds that took years to root and grow, but eventually they produced a healthy harvest. Why she took the time to invest in me, I do not know. Perhaps she possessed the genuinely passionate and patient heart of a true teacher. That's a powerful quality in a person."
Lamb is originally from Pennsylvania: Born in Johnstown, grew up in Windber, thrown out of college in Shippensburg, drafted in Kennett Square. He joined the Navy in the fall of 1967: Boot camp in Great Lakes, electronics training at Naval Air Station Memphis, processed for an undesirable discharge on suspicion of drugs in Corpus Christi, TX, though charges were later dropped.
A self-described bookworm—he wrote poems, played guitar and acted in theatric productions in high school and college—Lamb had difficulty adjusting to the rigors of military life, particularly inspections. Then, after three and a half years of trying, he finally learned how to conform to Navy life by amassing a collection of proven techniques. The result: stunningly shined shoes, a brilliantly bright brass belt buckle, starched white hat, perfectly trimmed hair.
He became virtually indistinguishable from every other sailor.
"That gave me an idea," Lamb said. "I decided to go into one of the biggest and most important inspections of the year in perfect naval attire except for one thing: I wore orange socks."
And he got away with it.
That impish act gave birth to one of the more comical chapters in his book "Orange Socks & Other Colorful Tales."
Following his time in the Navy, Lamb worked a variety of jobs—including youth director, ditch digger, carpenter's helper, kitchen cleaner, mason tender and mosquito killer—before going to what was then called Pasco-Hernando Community College. He later attended the University of South Florida. After graduation, he took a job with The Tampa Tribune, where he worked 11 years.
Lamb calls "Orange Socks" a collection of "the good, the bad and the funny" things that happened to him while serving in "The World's Largest and Cleanest Nuclear Navy." The book is available in Kindle, ePub and PDF versions. It can be purchased at Amazon for $4.99, in the iTunes Store for $4.99 or as a "DRM-Free Bundle" at http://www.jslstories.com/orange-socks.
ABOUT: Jim Lamb is a 1977 graduate of the University of South Florida with a double major in Mass Communications and Political Science. He worked as a copy desk editor for The Tampa Tribune, The Sarasota Herald-Tribune and the Charlotte Sun-Herald. Now retired, Lamb free-lances for MCA (http://myclassifiedads.net), a full-service ad agency based in Tampa.