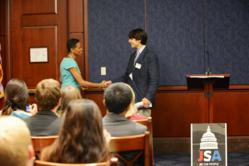 Going into the Senate, I felt inspired by the power and experience of the speakers. Having the opportunity to dive into a center of the American legislative branch was an invaluable learning experience.

-Texas Student Governor Indre Atlman
Washington, DC (PRWEB) June 30, 2013
On June 27th, 130 young leaders from 25 States and 7 countries visited the US Senate as part of the Junior State of America's (JSA) Georgetown Summer School speakers program. In addition to a rigorous college preparatory curriculum in the classroom, the students visit various venues across Washington, including the State Department, The Pentagon, and Capitol Hill.
Among those who addressed the students were Rep. Donna Edwards (D-MD), Rep. Dana Rohrabacher (R-CA), Rep Henry Waxman (D-CA), Rep Tim Bishop (D-NY), and Market Watch correspondent Alisa Parenti. Each speaker spoke to the students about the issues most important to them, and took questions from the students. In addition to the speakers who addressed the whole group, groups of students met with their members of Congress to share their views.
The enormity of the experience was exciting to the students. "Going into the Senate, I felt inspired by the power and experience of the speakers. Having the opportunity to dive into a center of the American legislative branch was an invaluable learning experience," said Texas Student Governor Indre Atlman.
Junior Statesmen Summer Schools are currently operating at Georgetown University, Stanford University, and the University of Virginia, and will be starting soon at Princeton University.
Junior State of America (JSA): Providing civics education and leadership programs for nearly 80 years, JSA is the largest student-run organization in the United States. School-year programs take place in more than 450 secondary schools in 35 states, with more than 10,000 members. The JSA program is supported by the Junior Statesmen Foundation Inc., a 501(c)(3) tax-exempt educational corporation, which provides guidance to JSA's student leaders. It has offices in San Mateo, Calif., and Washington, D.C. More information is available at http://www.jsa.org or jsa(at)jsa(dot)org.
# # #