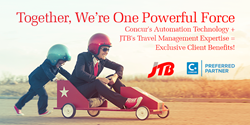 New York, New York (PRWEB) July 17, 2016
JTB USA Business Travel has been recognized by Concur as a Travel Management Company (TMC) Preferred Partner. As one of the world's largest travel companies, JTB has an annual buying power of $13B+ and a vast network of offices around the globe offering a wide variety of travel management services. JTB USA Business Travel is thrilled to be making this exciting announcement just in time for the upcoming GBTA Conference in Denver, Colorado.
"We welcome JTB USA Business Travel to the program. When we launched this program, we committed to being the trusted technology partner to the TMC community, providing TMCs with our connected platform and enhanced tools to help better manage compliance while improving the traveler experience. The continued growth of the program reflects the success of this strategy and we are looking forward to working with this new partner," said Mike Koetting, Concur's EVP of Supplier and TMC Services.
Concur's preferred partnership status comes with numerous benefits for TMCs including advanced integration and high-level access to Concur's best-of-breed technology solutions that deliver rapid ROI, bottom-line savings, and increased employee productivity. In the hands of an experienced TMC like JTB USA Business Travel, all of this translates into increased benefits for business travelers, travel managers and executives.
JTB USA's Common Sense Approach To Business Travel is in perfect alignment with Concur's vision of The Perfect Trip and The Connected Journey, making this a synergistic match when it comes to serving business travel customers' needs.
"It's a true honor for us to be recognized by Concur as their preferred partner," said Tetsuya Shibata, General Manager of JTB USA Corporate Sales and Marketing. "We are very excited about the new opportunities this collaboration will bring and genuinely look forward to seeing the results of aligning our resources and efforts to expand both organizations' presence in the global market."
Concur's cloud based products are an integral part of JTB USA's service offerings, so this strategic partnership further strengthens the relationship and gives both organizations true power to innovate and collaborate now and in the future.
For more information about JTB USA Business Travel, visit JTBUSABusinessTravel.com
(http://www.jtbusabusinesstravel.com).
About JTB
By exceeding expectations since 1912, JTB has become one of the world's largest travel companies. As a result, our travelers can rely on the premier access and superior services of our $13B+ annual buying power. Due to our vast network of 517 locations in 99 cities and 36 countries, JTB is synonymous with travel worldwide. Our global network provides a wide variety of exclusive Travel Management services for businesses in the U.S. markets and our dedication to providing full content empowers JTB clients to gain more control over their programs and rein in their travel spend.
About Concur
Concur®, a part of SAP is a leading provider of integrated travel and expense management solutions for companies of all sizes. Concur's easy-to-use web-based and mobile solutions help companies and their employees control costs and save time. In support of the mission to fuel The Perfect Trip™, Concur delivers continuous innovation through cloud-based services that make it simple to manage travel and expenses. By connecting data, application and people Concur delivers an effortless experience and total transparency into spending wherever it happens. Concur services adapt to individual employee preferences and scale to meet the needs of companies from small to large, so they can focus on what matters most. Learn more at http://www.concur.com.