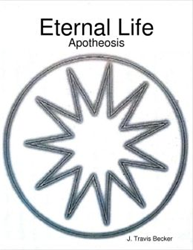 Gaylord, MI (PRWEB) March 20, 2014
A young man becomes embroiled in an epic battle between gods and demons with eternity as the prize in "Eternal Life: Apotheosis" (published by Lulu), the new science fiction from author J. Travis Becker.
The Millenia War was the greatest conflict mankind has ever known, lasting hundreds of years, and its battles were devastating to Earth and its inhabitants. A kind but twisted war hero named General Cain rules what's left of the world, but he has his sights set on taking control of much more.
Andrew Baker, an ordinary teenager, is about to have his life changed forever as he becomes involved in an ancient prophecy and realizes the important role he has to play in the upcoming war to stop General Cain, protect the Earth and save the world that lies beyond.
An excerpt from "Eternal Life":
"'Why?' Andrew asked in shock.
'You are going to become Ilmec. Your job will be to seek revenge against Satan.'
'What makes me so special?'
'Your death makes you special. You won a lottery you didn't know you were playing. You are the twenty-fifth person this month to be killed by one of Satan's minions. He had been warned not to push us but by killing you declared war on the gods. He is stealing people's souls to build a vast army. That's where you come in. You will lead the fight against Satan's forces on Earth.'"
"Eternal Life"
By J. Travis Becker
E-Book | ISBN 9781304089625
About the Author
J. Travis Becker grew up in northern Michigan. He enjoys the outdoors, reading, writing and science. After graduating high school in 2009, he went on to get his bachelor's degree in electrical engineering from Michigan Technological University, where he is currently pursuing a master's degree in electrical engineering. "Eternal Life" is his first published book.
Launched in 2002, Lulu pioneered the self-publishing industry and paved the way for people around the world to publish books and bring them to market, while allowing authors to retain full control of their work. Operating a global network, Lulu provides worldwide distribution so that authors can reach readers just about anywhere via print, e-readers and tablet devices. For more information, visit http://www.lulu.com or call (888)-265-2129.