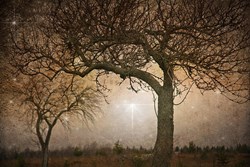 I enjoy searching for beauty in things that people pass by every day without noticing.
Sault Ste. Marie, Michigan (PRWEB) December 17, 2013
Photographer Jude McConkey (http://www.judemcconkey.etsy.com) will bring her evocative landscape photography to GBK Production's invitation-only luxury gift lounge for the 2014 Golden Globes on January 10-11, where it will be on display and gifted to celebrities attending The Artisan Group® exhibit. The Gift Lounge will take place at an exclusive location in Beverly Hills, California.
McConkey will display an 8" x 10" photo block of her popular photograph, "Tree Faeries." Celebrities gifted a The Artisan Group® swag bag will receive one of four matted photographs, "Tree Faeries," "Silent Path," "Snowtree" or "Snowtrain."
McConkey selected the four landscape photographs because they are popular with collectors and represent her artistic point of view.
"I enjoy searching for beauty in things that people pass by every day without noticing. I have a vivid imagination and this shows up in my photographs, which can range from dreamily romantic to eerily haunting to magically surreal. I'm inspired by emotion and try to bring out the human-like qualities in natural objects."
"Tree Faeries" speaks of a magical forest inhabited by tree faeries who "only come out at night, when man is not around. They are delicate as a whisper and as old as time itself."
The other photographs to be gifted are "Silent Path," which McConkey shot on a cold, rainy October day when, "the leaves had already hit the ground and the few that remained on tree branches threatened to fall at any time." "Snowtree" depicts the white-blanketed reality of McConkey's home in the Upper Peninsula of Michigan, where winter reigns over all for as much as half the year. "Snowtrain" was shot as the photographer waited for a train to pass on the tracks. "The snow was falling, and I thought it was beautiful."
McConkey is a former newspaper photographer, writer and artist who has successfully turned her passion for photography into a career. Collectors remark on the ability of her photographs to inspire emotion. McConkey says it is not unusual for the work to evoke tears. "I think that's the highest honor because my photographs come from something inside me and to have someone feel what I feel about my work is amazing."
Besides landscapes, McConkey's enjoys shooting old or deteriorating barns and farmhouses, as in her series, "Rural Decay." Her "Dark Art" series encompasses a wide range of subject matter, all with a tinge of melancholy.
McConkey has also created a line of metal photo jewelry that showcases her original photos printed on a 2-3/4" x 1-1/8" piece of thick aluminum, which she rivets to a 1-1/4" high brass cuff. The cuffs are available in multiple sizes and come with a brushed metal or patina finish.
McConkey's photograph, "No Trespassing", was seen on the Emmy-Award winning TV show, "Modern Family" and her photographs and photo jewelry have been included in The Artisan Group Press Swag Bags for the 2013 Golden Globes and the 2013 Academy Awards. They have also been gifted to Renee Zellweger, Giada De Laurentiis, Amy Poehler and Alison Sweeney, and the stylists at "True Blood," "Pretty Little Liars" and "The Vampire Diaries."
To learn more, contact Jude McConkey by email, visit the judemcconkey.etsy.com, and become a fan on Facebook (JudeMcConkeyPhotography) and Twitter (@judemcconkey). Shop Jude McConkey Photography at judemcconkeyphotography.etsy.com and Fine Art America (Jude McConkey Fine Art Photography Photos). McConkey also participates in select juried art festivals.
For more information about The Artisan Group, visit theartisangroup.org.
About Jude McConkey Photography
On the road to becoming a photographer, Jude McConkey (http://www.judemcconkey.etsy.com) was an artist and award-winning writer. She finally found the vehicle that captured her view of the world when she bought a camera. Since leaving her job as a newspaper photographer, Jude is often found on the back roads of the Upper Peninsula of Michigan looking for lost places to photograph. Her photographs have won awards and been featured on the sit com "Modern Family."