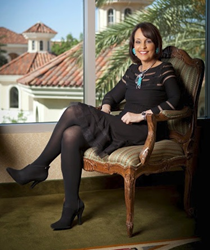 Strategizing with a coach will help you keep your vision on track and give you an action plan.
(PRWEB) October 27, 2014
Business and sales coaches may be many in number, but not all can boast clients who are so satisfied that they make sure to introduce colleagues to the same coaching. However, Judy Hoberman experienced just that. Hoberman recently attended the eWomen Network International Conference, as one of the Premier Success Coaches; the attendees were offered complimentary strategy sessions. She discovered that many of her existing clients were in attendance, and were bringing their colleagues to her sessions.
This speaks volumes about Hoberman's coaching: her clients experience such radical transformations in both their businesses and their lives that they feel compelled to share it with others. Her coaching is always customized to the client and their particular industry, and includes a personalized marketing plan as well as some strategies to simplify the sales process so that clients may take their businesses to the next level.
Hoberman, an expert in business and sales, also offers a great deal of support and guidance to her clients. Says client Yolanda Hunte, Executive Consultant for Ambit Energy, "I wanted someone who I could connect with and that truly had my best interest at heart. She always has... I continue to learn so much about myself and my gifts but more so about how important professionalism can change your view on others." Due to the personal nature of Hoberman's coaching, she currently only has the availability to take on a handful of clients.
Throughout the remainder of 2014 Judy is offering a new coaching promotion - 6 months of personal coaching sessions for $1,000 per month. If the initial payment is paid in full she will offer 1 of the 6 months at no cost to the client.
To contact Judy Hoberman about her latest coaching specials email her at Judy(at)SellingInASkirt(dot)com or (203)605-3635.
"Judy Hoberman coaches so you realize success," states speaker, author and CEO of Kick It Marketing, Laura Armbruster. With her long history in business and sales, Hoberman can ensure not only insightful coaching but also a great deal of resources within her personal network. She encourages action-oriented individuals who are committed to turning the tide toward success to contact her for coaching.
Judy Hoberman
After completing her position as an award-winning training director, with nearly 30 years in sales, Judy has Hoberman taken her career on a new path as a successful speaker, consultant and entrepreneur, addressing the differences in sales techniques between men and women, and the advantages of a female-focused approach. Judy is a true entrepreneur at heart with experience both in the self-employed and corporate arenas, she was personally selected by the President and CEO of a large insurance company to bring her talents into the corporate office. Her task was to demystify the sales process for 3,000 field agents and resulted in being awarded the Character and Integrity award from the field for her contribution to their remarkable success. After creating a turn-key national training program for both managers and salespeople, she decided to develop on-site training for another one of her passions – the challenges faced by women in sales. Having been mentored by men her whole career, Judy has turned her training talents to the differences in sales techniques between men and women. Now, Judy is a sought-after author of 3 novels, Selling in a Skirt; Famous Isn't Enough; PURE WEALTH: 26 Ways to Crazy Profitability. See more at http://sellinginaskirt.com/.