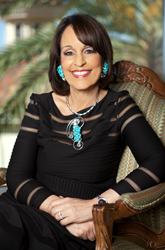 It's all about choices. You make them, you keep them, you live by them.
(PRWEB) July 07, 2014
Judy Hoberman, author of Selling in a Skirt and Famous Isn't Enough, now has an anthology to her credit as well. Hoberman organized 26 of the top women in business to contribute to PURE WEALTH: 26 Ways to Crazy Profitability. This compendium of wisdom features the advice of business owners in a number of fields and holds something for everyone.
Hoberman is a sought-after keynote speaker herself, as well as a sales trainer, top-level coach, consultant, radio show host and expert in sales. FOX Business has granted her the title of 'The Gender Expert' and she often appears on their programs to weigh in and share her insight on issues pertaining to gender equality in the work place.
In her previous book, Selling in a Skirt, seen at http://sellinginaskirt.com/the-book, Hoberman discusses how to create success and profitability. Now, she has applied that knowledge to gathering the collective intelligence of the very best women in all fields of business and presenting them in one easy-to-read book.
PURE WEALTH: 26 Ways to Crazy Profitability was launched to the public on July 1, 2014. PURE WEALTH is recommended for anyone, male or female, who wants to learn the secrets of how 26 women built successful companies and how they view businesses and life in general.
All three of Hoberman's books have been published through Next Century Publishing, a hybrid publishing company that features the works of some of today's most forward-thinking intellectuals and entrepreneurs.
About Judy Hoberman:
After nearly 30 years in the sales side of business, Judy Hoberman has seen a variety of techniques come and go, delivering flash without substance and ultimately leaving adopters high and dry. After completing her position as an award-winning training director, Judy has taken her career on a new path as a successful speaker, consultant and entrepreneur, addressing the differences in sales techniques between men and women, and the advantages of a female-focused approach. Now, Judy is a sought-after author of 3 novels, Selling in a Skirt; Famous Isn't Enough; PURE WEALTH: 26 Ways to Crazy Profitability.