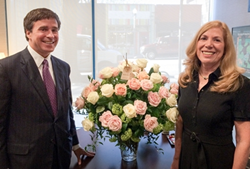 I'm still in banking because I enjoy the interaction with the customers and the ability to help people and the community.
Atlanta, Georgia (PRWEB) April 03, 2015
Judy Turner, President of Private Bank of Decatur, recently celebrated her 50th anniversary in banking. Turner began her career in banking on March 16, 1965, and has spent all of that time in banking in the Atlanta area – more than half of her career in the City of Decatur.
"I'm still in banking because I enjoy the interaction with the customers and the ability to help people and the community," Turner says. "In fact, I don't consider it work. It just feels like I'm able to help people accomplish their goals."
To honor Turner's 50-year banking milestone, her colleagues are pledging "50-for-50." That is, donating 50 hours of community service in the Decatur market as a way to mark the occasion and honor Judy's dedication both to community banking and community involvement.
"Community ties are essential to our banking model and a strong community focus is central to Judy's success and important to her personally, so we thought a 'giving back' approach would be the best way to honor her," says Charlie Crawford, President of Private Bank of Buckhead, of which Private Bank of Decatur is a division. "We'll collect 'selfies' of our folks as they go about performing this special community service and then collect those into a book for Judy."
Turner started with Citizens & Southern National Bank, becoming one of the first Personal Bankers when C&S started that program, and became an officer of the bank in 1974. A year after C&S became NationsBank (1995), Judy had an opportunity to go to work in the Decatur Office of Bank South. Three years later Bank South was purchased by NationsBank and several community leaders felt a need for a community bank in Decatur. They looked to Judy to organize and lead Decatur First Bank, where she was President and CEO. In November of 2011, Judy had the opportunity to join Private Bank of Buckhead to organize and open Private Bank of Decatur. It officially opened in October 2012.
Crawford notes that it is because of Turner that Private Bank of Buckhead chose Decatur as its first market expansion. "The Decatur expansion was driven by the availability of great banking talent -- Judy Turner and the talent she attracts. We became aware of seasoned bankers who have long served the Decatur market and wanted to continue to do so from the strength of an organization like ours."
Though she has an extensive banking resume, many area residents are familiar with Turner through her community involvement. She helped found and is President of the AJC Decatur Book Festival (having previously served as Treasurer) and has served as Chair of the Development Authority of DeKalb County, Trustee of the DeKalb History Center, Treasurer of Seniors Helping Seniors and was until recently on the board of the DeKalb Medical Foundation. She has served on the boards of both the Community Bankers Association and the Georgia Bankers Association. In fact, both of those organizations plan to honor Judy later this year for her longtime banking service.
"It is hard to fathom how many people have been positively influenced by Judy over her 50 years in banking," Crawford says. "Many things have changed in our industry over that period but one thing hasn't: Judy's passion to serve her customers and her community in everything she does. On behalf of our board of directors, our employees, and our customers, we congratulate Judy on this milestone that very few bankers achieve and we are so pleased that she is part of our team as she begins her 51st year."
He also shares a full-circle factoid about Turner: She previously worked in the exact same space in which Private Bank of Decatur is located...when C&S bank transferred her to Decatur in 1986. Turner adds that at that time C&S also issued a mandate that she get involved in the community. "I may have overdone it!" she says.
"Banking has changed in some ways in the past 50 years, but the basics are the same," Turner says. "We help people build their dreams and create economic development in communities. The tools available to accomplish this have definitely changed. There are many more regulations now. Fortunately, we can still help people and comply with all of the regulations at the same time."
Private Bank of Buckhead brings a private banking approach to all clients across all functions of the bank. The bank – now in its ninth year – is designated a Preferred Lender by the U.S. Small Business Administration, and includes a dedicated mortgage solutions unit, PrivatePlus Mortgage. Private Bank of Buckhead is located in Piedmont Center in Buckhead, Atlanta's financial district. Private Bank of Decatur is located at 150 East Ponce de Leon Avenue in Decatur, at the corner of Ponce and Church Street, and is now in its third year. The mortgage division is represented in both Buckhead and Decatur, and originates mortgages in 49 states and the District of Columbia.