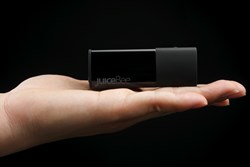 By making them dockable to one another, yet fully functional on their own, we're giving you an easy-to-use, easy-to-carry, all-in-one power solution.
Atlanta, GA (PRWEB) August 29, 2013
On July 23, 2013, the creators of juiceBee, a 3-in-1 USB wall charger and battery backup with microSD reader, launched a crowdfunding campaign on Kickstarter with the hopes of raising enough money to mass produce the device in a manufacturing facility; the most expensive step in the process of getting juiceBee to the market and into consumers' hands. Currently, juiceBee has raised $41,000 of its $50,000 funding goal and it's campaign will end in just three days, on September 1, 2013 at 5:21pm EST.
Most battery backups are too big, complex, impractical and many are just simply underpowered. But, there are many factors that make juiceBee better than other charger/battery backup combo devices out there. juiceBee's unique design charges both its own battery backup and mobile devices at the same time, without the need for extra cables or power adapters. The device's 3000 mAh battery provides users enough power to charge an iPhone 5 two times; more than competing battery backups at similar size or larger.
With its in/out USB port, users can recharge juiceBee's backup battery from any powered USB source, such as a laptop, while offering continued access to USB ports for data or use of peripheral devices. juiceBee battery backup can even be charged in the car via USB port or USB lighter adapter, which the team is currently offering as a reward on Kickstarter. And last, but not least, juiceBee's built-in power conservation technology eliminates standby, or vampire, power drain when left plugged in.
"Most people usually carry around a 5 volt USB wall charger and a battery backup for their mobile phone. Our 'aha moment' was when we came up the idea to combine them," say juiceBee co-creators Adam and Moez. "By making them dockable to one another, yet fully functional on their own, we're giving you an easy-to-use, easy-to-carry, all-in-one power solution."
Within the first two days of campaigning, juiceBee had raised over $10,000 from early adopters and supporters alike on Kickstarter. For a pledge of $49, backers not only help juiceBee raise the funds necessary to move to production, but they will actually receive the 3-in-1 portable battery backup when it ships in October.
To learn more about juiceBee and back the project today in exchange for the 3-in-1 charging device, visit http://bit.ly/juiceBeeKS. Also be sure to connect with juiceBee on Facebook and Twitter @Juice_Bee.
About juiceBee
juiceBee LLC., a new startup company focused on the development of compact battery backup and charger devices for mobile devices such as iPhone and other smartphones. Leaders in smart, compact, portable power solutions for mobile devices, juiceBee LLC is continually pushing the envelope to develop next gen power solutions to meet the increasing demand for charging solutions. To learn more about juiceBee, visit http://www.juicebee.com.