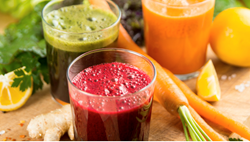 A juice cleanse can be a quick way to drop some weight.
Fort Lee, New Jersey (PRWEB) August 29, 2013
Juice cleanses remain a popular trend among weigh loss and health regimens, but the practice raises at least as many questions today as it did decades ago when advocates began toting it as a way fast way to lose weight and shed toxins. In a new blog on Marble Media LLC's juicing website Juicerhead.com titled, "Is a Juice Cleanse Right for You?", guest blogger Liz Ernst offers tips and guidelines for first time juice cleansers.
Standards for juice cleanses are hard to come by, as there are mixed emotions among nutritionists and health care professionals over their efficacy. For that reason, it is recommended to always see a physician before embarking on a juice cleanse.
"What exactly does a juice cleanse entail?," Ernst says. "Must you starve your way through some specific number of days, and If so, how many—10, 20, or even 60? Can you eat nothing at all?"
Most nutrition experts suggest a three day cap for first time juicers cleanses, according to Ernst, although she adds that there are no one-size-fits-all answers when it comes to juice cleansing.
"It's good to find out all you can before starting a juice cleanse," Ernst says. "Guidelines to follow during a juice cleanse are fairly obvious: your diet should be primarily liquid, and everything you consume should be plant-based."
Besides fruit and vegetable juices, the only liquid that should be consumed in a juice cleanse is water.
"This means avoiding alcohol and any caffeinated beverages such as coffee or tea," Ernst says. "For some people, this is the most difficult part of a juice cleanse."
Proponents believe that a successful juice cleanse will give the body a break, as the enzymes and nutrients in juice are more easily absorbed by the body than solid food that must be broken down. A juice cleanse is believed to super-charges the immune and digestive systems, and cleanse organs like the liver and kidneys of toxins to improve their function.
"A juice cleanse can be a quick way to drop some weight, and can start you down the path of healthier eating and healthier living," Ernst says.
For first-time juice cleansers, Ernst says to try not to be discouraged if a cheat slips in during the process.
"It is better to accept the slip-up and move forward, sticking to juice, fruits, and vegetables for the duration that you have chosen for yourself as best you can," she says. "It takes discipline and practice to find the healthy living style that is right for you; once you do, you'll find the journey was worth it."
The JuicerHead.com site is a great tool for experienced juicers and juicing newbies alike. For more information, visit the JuicerHead.com website or email info(at)JuicerHead(dot)com.
About Marble Media LLC:
Marble Media LLC is a creator of high-quality, content-rich blog sites that provide expansive coverage of relevant information to readers who make up a wide range of demographics. The Marble Media LLC team of expert writers covers a wide range of specialties including travel, food, health, fitness, social media, marriage, parenting, technology, weight loss, fashion and much more.
For more information on Marble Media LLC's offerings and advertising opportunities, visit the MarbleMediaLLC.com website, or email sales(at)marblemedia(dot)com.