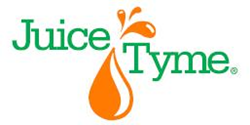 In today's competitive environment it's imperative that resources are dedicated to producing high quality, safe products for the consumer.
Chicago (PRWEB) July 07, 2014
Juice Tyme announces attaining the Food Safety System Certification (FSSC) 22000 scheme under the benchmarking organization Global Food Safety Initiative (GFSI). GFSI is a non-profit created in 2000 in an effort to reduce high profile food recalls, improve food quality and safety; and create consistent guidelines. Juice Tyme has manufactured and sold high quality juice concentrates and beverages for more than 30 years, and recognized the FSSC 22000 certification as a way to assure customers of its food safety practices.
"In today's competitive environment it's imperative that resources are dedicated to producing high quality, safe products for the consumer," explained Matt Martens, Juice Tyme executive vice president of operations. "Becoming a recognized GFSI facility through FSSC 22000 certification adds to our continuous improvement program as it relates to food safety and quality."
By working with a certified partner, Juice Tyme customers will benefit because it assures best food safety practices are being followed. It also provides the company with a management system approach to qualify and train employees, with appropriate infrastructure and work environment. Juice Tyme has always had a commitment to safety, and this food safety certification demonstrates that to its partners.
Juice Tyme provides its customers quality juice products along with a set of benefits that would be difficult to find in another single supplier. These include variety, fast flavor development, packaging options and fresh, made-to-order products (produced within one to three days), all with low minimum order requirements.
About Juice Tyme
Founded in 1980, Juice Tyme, Inc. manufactures and sells juice and beverage concentrates for the foodservice industry in the United States. It offers juices, drinks, sugar-free beverages, thickened and enhanced waters, sports and energy drinks, iced teas, margaritas and cocktail mixers, frozen drinks and smoothie mixes, and flavor shots. The company, based in Chicago, serves restaurants and bars, colleges and universities, K-12 schools, business and industry, healthcare, military, recreation and lodging, and convenience stores markets. It markets its products through a network of beverage and foodservice distributors. In August 2013, the company was acquired by Highlander Partners, L.P., a Dallas-based private investment firm. For more information about Juice Tyme, please visit juicetyme.com.
About the Global Food Safety Initiative
The Global Food Safety Initiative (GFSI) is a business-driven initiative for the continuous improvement of food safety management systems to ensure confidence in the delivery of safe food to consumers worldwide. GFSI was launched in 2000 following a number of food safety crises when consumer confidence was at an all-time low. Its collaborative approach to food safety brings together international food safety experts from the entire food supply chain at technical working group and stakeholder meetings, conferences and regional events to share knowledge and promote a harmonized approach to managing food safety across the industry. For more information, please visit mygfsi.com.