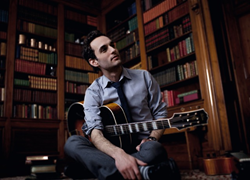 You have to check him out." - Gary Burton
(PRWEB) September 29, 2015
South Florida JAZZ, South Florida's premier modern jazz organization, is especially excited to present The Julian Lage Trio on Saturday, November 14, 2015 at 8:00 PM. This concert will take place at the Rose & Alfred Miniaci Performing Arts Center on the Nova Southeastern University campus, 3100 Ray Ferrero, Jr Blvd, Davie 33314. Tickets are $40 ($10 students with I.D.) and can be purchased from Ticketmaster either by calling 954.462.0222; or online at southfloridajazz.org.
Julian Lage (pronounced "lodge") is a rapidly rising guitar phenom who was a true prodigy growing up in northern California. Steeped in jazz, but also comfortable with classical, folk and country music, Julian has taken the music industry by storm. He is best known for his early collaborations with vibist Gary Burton (South Florida JAZZ Artistic Advisor), but is becoming comfortable as a bandleader. His local appearance is with his well-honed trio of bassist Orlando le Fleming and drummer Kenny Wolleson.
JULIAN LAGE TRIO:
"Guitarist Julian Lage gets my vote for 'Best New Jazz Star.' And that's not just my opinion. His first CD got a Grammy nomination and the latest DownBeat Critics Poll ranked him number two, up there with all the established players in the business. You have to check him out." - Gary Burton
Though only in his mid-twenties, guitarist-composer Julian Lage already has enjoyed a remarkable career. As the New York Times has asserted, Julian is a an artist whose roots ultimately are "tangled in jazz, folk, classical and country music." How he got to that point is somewhat enigmatic. A child prodigy growing up in Santa Rosa, California, Julian was absorbing the guitar from his father at an age when other kids were learning to tie their shoes. His immense talent was so startlingly obvious that he became the subject of the 1997 Oscar-nominated documentary, "Jules at Eight." He made his first recording, with the ultimate genre-bender, David Grisman, at the age of 11; and subsequently caught the notice of vibist-educator Gary Burton at the 2000 Grammy Awards where Julian appeared in the youth band. Gary took Julian under his wing, making him the latest guitarist in a succession of prize discoveries After a TED Conference appearance together, Julian, with his parents in tow, began appearing with Burton's bands.
While exploring guitar duos and still playing with Burton and others in more conventional jazz configurations, Julian has become a bandleader as well, first recording, "Sounding Point," which garnered a 2010 Grammy nomination as Best Contemporary Jazz Album. Two others, "Gladwell" a concept album, and a new solo album, "World's Fair," have followed, both to critical acclaim. But Julian is especially comfortable with his outstanding traditional jazz trio and that makes this South Florida JAZZ appearance a much-anticipated event.
ARTISTIC PERSONNEL:
Julian Lage – guitars
Orlando le Fleming – acoustic bass
Kenny Wolleson – drums
This concert is underwritten in part by a generous donation from Dr & Mrs Helmut Kraemer.
Funding for this organization is provided in part by the Broward County Board of County Commissioners as recommended by the Broward Cultural Council.