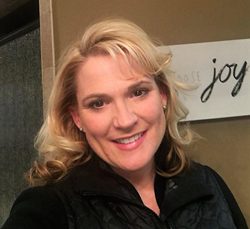 We can be there to help with any piece you need help with and our compassionate team understands that, when you're facing a transition, you're often emotional and overwhelmed. It's OK – we've been there. - Julie Bilyeu
WINSTON-SALEM, N.C. (PRWEB) March 18, 2019
When Julie Bilyeu and her sisters realized their mom could no longer live on her own, they had 21 days to find her an assisted living facility, clear out her apartment and get her moved. For Bilyeu, who lived out of state and had two young teenagers playing travel soccer, those three weeks were the most stressful days of her life. Now she's looking forward to using that experience to help other families with her new business – Caring Transitions of Winston Salem.
Caring Transitions' specially-trained professionals handle decluttering, organizing, packing, moving, resettling, in-home estate sales and online auctions, liquidations, and preparing homes for market. While the services are tailored for seniors, they can be customized for any situation. Caring Transitions of Winston Salem serves Forsyth, Davie and Davidson counties, including Piedmont Triad, Winston Salem, Kernersville, Clemmons, Lexington, Advance, Bermuda Run, Mocksville, Lewisville, Thomasville and the surrounding areas.
Bilyeu's journey to Caring Transitions started with her own experience with her mom. Her father died in 1992 at the age of 44 and, as her mom got older, she started having frequent hospital stays, which continued to escalate until Bilyeu and her sisters realized they needed to find an assisted living facility.
"My mom would be in and out of the hospital for a week or two weeks and then she's go to rehab. When she got home, she wouldn't take her medication or eat right and the whole cycle could start over. When it happened the last time, we suddenly realized she couldn't go home. Medicaid would pay for 21 days of rehab, so we had 21 days to find her a nice place that she could afford near her home in Georgia, clear out her apartment and get her moved. Although we had talked about this happening at some point, we weren't prepared for it at all and it was a crazy three weeks. When I learned about Caring Transitions, I immediately saw how important the Caring Transitions' services could be for seniors, busy families, people moving for business or anyone who didn't want to do it all themselves,"Bilyeu said.
http://www.CaringTransitionsWS.com are perfect for managing the many aspects of a senior move or assisting with the process of downsizing to provide a safer living situation, as well as for busy families and people clearing out the home of a loved one who has moved into assisted care or passed. All of Caring Transitions' services are customizable, so clients choose the solution that best fits their needs – whether that means managing the entire move and estate-clearing, just getting someone resettled into their new place, or anything in between. Bilyeu's two adult children – Abigail and Caleb – will both be working with Caring Transitions of Winston Salem too.
"Caring Transitions is unique because our plans are flexible and customizable. We don't have to stay in one lane, either from the beginning or throughout the process. We can be there to help with any piece you need help with and our compassionate team understands that, when you're facing a transition, you're often emotional and overwhelmed. It's OK – we've been there. We want to do whatever we can do to help you get to the next step of your life with as little stress as possible," Bilyeu said.
"I love solving problems and finding solutions and that's what I'm looking forward to doing for my Caring Transitions clients," she added.
Caring Transitions of Winston Salem is bonded, insured and their employees have been background checked. For additional information about Caring Transitions of Winston Salem, call (336)290-6021, email JBilyeu@CaringTransitions.com or visit http://www.CaringTransitionsWS.com.
About Caring Transitions
Caring Transitions, founded in 2006, is the most trusted and experienced national franchise specializing in senior relocation and transition services. With more than 200 locations throughout the United States all owned and operated by Certified Relocation and Transition Specialists, Caring Transitions provides clients with supportive moves, auctions, rightsizing and transitions. This includes expert advice plus a well-executed transition plan beginning with the initial sorting of personal belongings through packing, unpacking, resettling, selling of items to the final clearing and cleaning of the property. For more information, visit http://www.caringtransitions.com or visit us on Facebook.