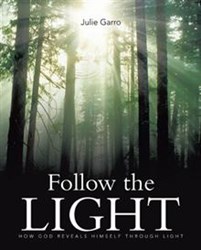 God is right here, right next to each of us, just waiting to start that relationship with us.
Mansfield, Texas (PRWEB) November 11, 2013
On the first day of creation, God said, "Let there be light." However, according to the Book of Genesis, God did not make the sun, moon and stars until the fourth day of creation, meaning that there was no physical light for four days. Something about the first passage moved author Julie Garro so profoundly that she decided to research it and document her journey. The result became her new book, "Follow the Light: How God Reveals Himself through Light" (published by CrossBooks).
"I did not set out to write a Bible study," she says. "It started out as a record of my journey, then I thought it might make a good fill-in lesson one day. Then it just got bigger and bigger."
In an eight-week Bible study course, Garro helps readers see light as a metaphor for God throughout the Scripture. By providing passages and prayer suggestions for readers to reflect on, Garro creates a lasting metaphor that is sure to resonate with readers. "Follow the Light" gives individuals and groups the tools needed to build a meaningful, lasting relationship with God.
Garro hopes readers will turn to her book when searching for the light in their lives. "God is right here, right next to each of us, just waiting to start that relationship with us," Garro says. "He's offered the invitation. All we need to do is respond."
"Follow the Light"
By Julie Garro
Softcover | 7.5 x 9.25in | 166 pages | ISBN 9781462731435
E-Book | 166 pages | ISBN 9781462731442
Available at Amazon and Barnes & Noble
About the Author
Julie Garro is a Navy veteran and a business woman. She has spent 25 years in training, career counseling, and human resources and has written and delivered numerous training materials. Garro and her family live in Mansfield, Texas. More information can be found at http://www.juliegarro.com.