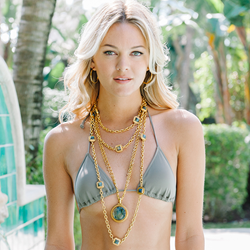 "Opening a pop-up is a unique opportunity," says Julie Vos, the company's owner and chief designer. "We're excited to give our customers a chance to shop the jewelry in person and to experience the brand in a new and more intimate way."
New York, New York (PRWEB) April 09, 2015
Designer Julie Vos will open a pop-up shop from May 4, 2015 to May 30, 2015 in midtown on Lexington Avenue, next to the Roger Smith Hotel. The boutique opens in response to customer demand to shop the jewelry in store. And that's not all--the pop up shop will host its own Bangle Bar, where Vos jewelry devotees can curate and share their own army party using #julievos.
"Opening a pop-up is a unique opportunity," says Julie Vos, the company's owner and chief designer. "We're excited to give our customers a chance to shop the jewelry in person and to experience the brand in a new and more intimate way."
The Julie Vos brand was launched in 2006 after its designer set about developing a jewelry collection known for its attention to sumptuous details with vivid cabochon stones. What began as a personal passion evolved into a thriving business headquartered in New York City.
Eight years later, with spiking website sales and more than 500 boutiques nationwide carrying her line, Vos has built a label that Vogue, Elle, W and Harper's Bazaar feature on their editorial pages. In 2014 Julie Vos made its television debut on a broadcast of Good Morning America.
The store will kick off its launch in collaboration with many of the brand's dedicated NYC influencers. The popup will house the Julie Vos Spring 2015 Collections, as well as a selection of the brand's core pieces and signature scarves.
To learn more about Julie Vos, visit http://www.julievos.com.
The Julie Vos pop-up will be located in the RSPOP space, a street level location at 501 Lexington Avenue.