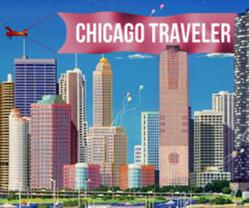 Chicago, Illinois (PRWEB) July 02, 2013
There are no shortage of reasons to visit Chicago this summer, from fun concerts and holidays to beautiful weather that makes sightseeing in Chicago at the top of everyone's list. There's no better way to celebrate summer than enjoying the food, drinks, family activities and live music at a summer festival. Summer has officially begun, and there are plenty of festivals that will showcase the food, local talent and craft beer in Chicago this July. ChicagoTraveler.com announces the top Chicago festivals to attend this July.
Taste of Chicago - July 10-14, 2013
For 5 days, Taste of Chicago, the world's largest food festival, is taking over Grant Park. With this foodie fest comes food from 35 of Chicago's top restaurants, including four new crowd-pleasing menus to try, as well as Pop-up restaurants, live music concerts and family friendly activities. Every day there's something different happening at Taste of Chicago 2013, so even those who have attended the festival before will want to come back for more this year.
Irish Fest Chicago - July 12-14, 2013
St. Patrick's Day was big, but there's a second chance to celebrate the Irish heritage in Chicago this July. Over 100 performances on 5 stages, craft beer tents, whiskey tastings, delicious food and family friendly activities make up Irish Fest Chicago.
Square Roots Festival - July 12-14, 2013
Bringing the community together for a fun weekend packed with live entertainment, local vendors and restaurants and local and regional craft breweries to check out. This family friendly event in Chicago will draw tons of people to Lincoln Square for a weekend of summer fun.
Windy City Smokeout - July 12 - 14, 2013
Nothing says summer quite like a good afternoon of BBQ, beer and country music, does it? The first annual Windy City Smokeout presents the chance to enjoy them all for a weekend in River North, Chicago. Delicious BBQ from some of the best pitmasters in the country, beer, wine and spirits and some great concerts happening throughout the weekend, including performances by Pat Green, Jerrod Niemann and David Nail!
Sheffield Garden Walk & Music Festival - July 20-21, 2013
The 45th annual Sheffield Garden Walk & Music Festival is back to raise money for the SNA's Award-Winning Beautification Program, a plan to maintain Sheffield as the Garden District of Chicago, and features self-guided tours of over 80 beautiful gardens, architectural tours, live music, food and drink vendors and plenty of entertainment for the little ones in the Kids' Corner.
West Fest Chicago - July 13-14, 2013
All things West Town come together for a 2-day street fair/block party that celebrates the local flavor that makes up this Chicago neighborhood.Bring the kids to KidFest, the dogs to PUPFest, and everyone else along to enjoy the live music, great food and summer festivities.
Taste of River North - July 19-21, 2013
This riverfront festival in River North Chicago is back for it's 12th year, showcasing local live entertainment, food and family fun for one weekend in Chicago. The diverse flavors of River North never disappoint, and there's something to satisfy every palate at Taste of River North. In addition to the fantastic food, there are also tons of family friendly activities, like face painting, arts and crafts, music, dancing, cooking classes, balloon art and much more!
Randolph Street Market - July 78-28, 2013
Home to the Chicago Antique Market,Indie Designer Market, Modern Vintage Chicago and the Holiday Market, this summer festival will showcase art, fashion, antiques, vintage treasures and more for one weekend each month. From 10am-5pm each day in July, market goers can find treasures to furnish their home, improve their wardrobe, or just enjoy the food and music that will be there entertaining the crowds. Pets are allowed (in the outside part) and there's something here that every shopper will love.
Wicker Park Fest - July 27-28, 2013
The Wicker Park Fest has been named one of the "best street festivals of the summer" by the Chicago Tribune, and from the great music line-up to the great mix of food and vendors in this trendy Chicago neighborhood, people of all ages and interests will enjoy this festival.
Chicago SummerDance - July 27-September 15, 2013
The largest annual outdoor dancing series in the US bring everyone in Chicago to Grant Park every weekend each summer to learn how to bust a move. Learn some new moves for every dance and enjoy 44 different live bands throughout the summer. Dance lessons are held from 6-7pm Thursdays thru Saturdays, followed by dancing 7:30-9:30pm, and on Sundays, lessons are held from 4-5pm followed by 2 hours of dancing.
There are tons of things to do in Chicago this summer, and all the festivals are just another way to enjoy all the city has to offer. Fantastic food, great music and family fun make every trip to Chicago completely unforgettable, and festivals are the perfect activity no matter what the budget is. Celebrate all that is Chicago at a festival this summer!
About ChicagoTraveler.com:
Chicago is one of the top vacation destinations in America famous for their annual events, popular foods, architecture and top sports teams. ChicagoTraveler.com guides travelers to all the best things to do, top places to eat and deals on the best places to stay in Chicago. Lizz Riggs, editor of ChicagoTraveler.com, can help travelers find all the best things to do, places to stay and deals to take advantage of on their next trip.