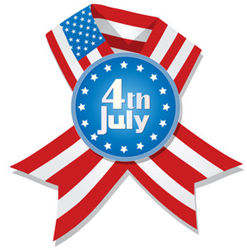 Independence Day is always one of the highlights of the summer season here in La Quinta.
Palm Springs, CA (PRWEB) July 01, 2014
Brad Schmett, Broker Associate with Luxury Homes by Keller Williams, today announced that the upcoming July 4 holiday will be a huge boost to the luxury home market as families head to the Valley to celebrate Independence Day with a variety of gala festivities offered all across the desert.
In true all-American style, the Palm Springs Stadium will offer a July 4 baseball game with the Palm Springs Power taking on the San Diego Force at 6 P.M. Friday evening. The game will be followed by a 9 P.M. fireworks extravaganza and as usual there will be plenty of hot dogs, hamburgers, potato salad, and snow cones for all to enjoy.
Schmett commented on the fun, "Independence Day is always one of the highlights of the summer season here in La Quinta. I like to enjoy the Chili Cook-off at the La Quinta Park at 4:30 P.M. followed by the parade at 7 P.M. and of course the huge fireworks display at 9 P.M. Of course there will be an indoor barbecue block party at the La Quinta Resort and Club and PGA West at the Fiesta ballroom from 5:30 to 8:30 P.M. with plenty of fun to go around. They will also have a fireworks display just after nine o'clock with a special dinner and drinks menu at the Fireworks Lounge. This is always a very busy weekend for everyone in real estate."
Palm Desert is never left out either and this year they're calling in the Swing Cats Big-Band to perform patriotic music and big band sounds followed by a fireworks display accompanied by synchronized music from one of the local radio station. Expect to see picnic baskets all across the Valley as families convene to enjoy a good old-fashioned Fourth of July holiday together.
For more information on Coachella Valley July 4 Holiday Celebrations visit http://palmspringsrealestateinfo.com/ps/old-fashioned-july-4-fun-rules-valley.
To find out more about investing in Palm Springs, CA real estate visit PalmSpringsRealEstateInfo.com.
About Luxury Homes by Keller Williams:
Luxury Homes by Keller Williams – Palm Springs, is an exclusive, elite and sophisticated group of real estate consultants raising the bar for service in the Palm Springs area residential real estate market.