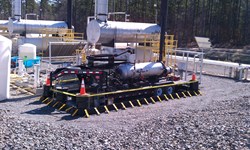 Is your containment AIRE tight?
Meridian, Idaho (PRWEB) July 31, 2013
Spill berms manufacturer AIRE Industrial is excited to announce the company will be attending the Bakken Oil Workers & Oil Service Expo trade show in August. The trade show features oil services vendors who assist in accomplishing all facets of oil and gas upstream delivery. As a unique blend of manufacturer and direct distributor, the company's goal at the event will be to highlight the wide variety of products it manufactures, as well as the ability to be a valuable supply chain partner.
The Bakken is becoming a very important energy producer, and AIRE Industrial can assist a wide variety of companies doing business in the area. Containment berms keep oil and gas pads as well as fuel transfer tanks and heavy equipment operators in regulatory compliance with the EPA and OSHA. Bladder tanks manufactured by the company can hold wastewater in addition to fuels. Water bladder tanks can be used for large potable water storage and remote site sediment capture.
Look for AIRE Industrial in booth MB-1, where the spill containment manufacturer will be displaying a lineup of containment berms and liquid storage tanks. The company is bringing inventory for sale in addition to taking orders and consulting on long-term partnership solutions for upstream clients.
For more information spill containment solutions, contact Aire Industrial, 2021 E Wilson Ln, Meridian, Id 83642, 1-800-247-3846 or visit http://www.aireindustrial.net where information, photos and supplemental chemical compatibility charts can be found.
About AIRE Industrial:
Located in Meridian, ID, AIRE Industrial has combined its technical knowledge and manufacturing expertise of flexible textiles to provide liquid containment products and spill prevention solutions for government agencies, military, agriculture, environmental containment, and the wild land fire suppression industries.
The founders of AIRE Industrial are outdoor enthusiasts, protectors of the environment, and take pride in using American sourced materials and keeping jobs local. AIRE Industrial offers a complete line of containment berms, flexible storage tanks and bladders as well as spill kits and containment products. AIRE Industrial has offices in Idaho, Washington, North Dakota, and partners in Europe, Asia, North Africa, New Zealand, The Middle East and South America. AIRE Industrial is a division of AIRE Inc. AIRE Inc. is the largest inflatable boat manufacturer in the U.S.